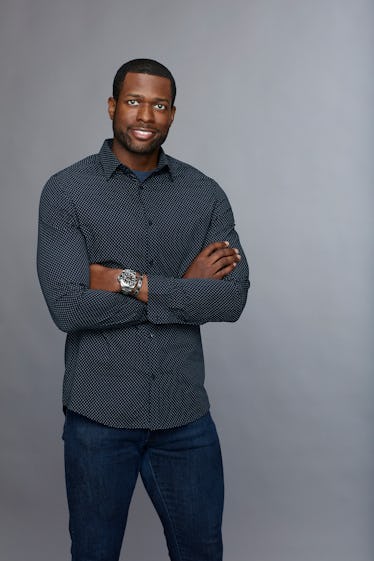 This 'Bachelorette' Contestant's Profession Is Seriously Confusing Bachelor Nation
ABC/Craig Sjodin
Becca Kufrin's Bachelorette debut is just around the corner — Season 14 of the dating competition show airs Monday, May 28. ABC finally revealed information about her 28 suitors on May 17, and as to be expected in the wild Bachelor-verse, some of the career descriptions were a bit questionable. What is a colognoisseur, you may be wondering after perusing the bios? At least we know one of the men vying for Becca's heart will smell exceptionally good.
Jean Blanc, a 31-year-old from Pensacola, Florida, is a face you can expect to see when The Bachelorette premieres later this month. According to his biography on ABC's website, "he works in finance and continues to add to his very impressive cologne collection." So, he seems to have a job that apparently has nothing to do with making or studying scents — he is just really, really into cologne. Chris Harrison weighed in on Jean Blanc in his Facebook Live announcement about this season's cast, saying, "He is a colognoisseur, which means he loves cologne. I don't know if any woman loves to hear that. I don't know... I guess I'll leave that up to Becca to decide, but he has like 250 bottles of cologne."
Jean Blanc's biography also notes that he attended college at Duke and "got a masters degree in business administration." He immigrated to Boston from Haiti with his family when he was just two-years-old. The guy has an impressive resume, but of course viewers want to know what's up with his fragrance obsession. Hopefully he'll discuss that colognoisseur life more with Becca.
According to social media, he tends to be on the move — there are snaps of him all over the country — and has attended some high-profile events like the NAACP Image Awards this past January.
It also appears his cologne bottle collection was at 50 as of 2013. Oh, how far he's come!
The Bach franchise has had a habit of labeling contestants based on what potentially sets them apart, as opposed to their actual professions. Remember when Haley and Emily Ferguson were reduced to the title of "twin" and Jonathan Treece, actually a physician, was called "The Tickle Monster?" Sometimes the alternative is just more intriguing. This season has some interesting "vocations" among the roster. Ryan, who Becca and Bachelor Nation met on "After the Final Rose," is a banjoist and Kamil is a social media participant (so am I?). There are also two NFL players and one ex Harlem Globetrotter. Game. On.
Bachelorette producer Mike Fleiss has already promised that Becca's contestants are the "best bunch of guys" the show's ever had.
Chris Harrison also teased that this season will involve some crazy arguments. The host revealed to ET:
Maybe the most ridiculous fight you've ever seen in the history of our show, which is saying a lot… It's just magnificent to watch. It's going to be one of those [seasons where] you're watching through your fingers because you're embarrassed for everybody involved but you can't stop watching.
Becca's been through so much this past year. Drama isn't something she's interested in dealing with, despite the fact that she's taking on the challenging task of looking for love on a reality show and dating 28 men at once.
"I'm trying to weed out the drama as early as possible. Like, I don't want drama," she explained to ET of her approach. "If there's a guy that's not meshing well with the other guys, I probably won't want to keep him around that long."
But will she fall for a colognoisseur like Jean Blanc? Bachelor Nation will find out more when The Bachelorette premieres Monday, May 28 on ABC.