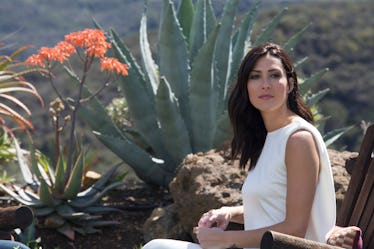 The 'Bachelorette' Episode 4 Promo Hints At Something Seriously Shady
ABC
Becca Kufrin's season of The Bachelorette definitely hasn't been lacking of drama. Episode 1 brought us our first "right reasons" confrontation, while contestant Colton Underwood's previous relationship with Becca's Bachelor friend Tia Booth has remained a key talking point in the past two weeks. We have reason to believe that the drama only continues in Episode 4, and it's bound to be juicy. The Bachelorette Episode 4 promo hints at some seriously shady business among the men, and I'm starting to feel impressed that Becca even managed to get engaged amidst all of this drama.
The new promo references the bloodbath that Episode 3 grew to resemble, what with David falling off his bed and being rushed to the hospital and NFL player Clay deciding to leave the show for wrist surgery. The sudden injuries have understandably thrown Becca slightly off her game, and it looks like the remaining men don't do much to help her recover from those traumatic updates. Come on, boys, step up!
While the preview first teases David returning from the hospital with a presumably disfigured face, it also suggests that one of the men is hiding a major secret from Becca. So, what else is new?
Before we jump to the easy conclusion of blaming Colton for the teaser's promise of deception, the promo shuts down the possibility that Colton has spilled more tea about his time with Tia. The clip shows Colton telling someone, "I've lost all respect for you." Leo with the luscious locks then tells the camera that Becca will think that someone has deceived her. Who can possibly be in the doghouse now?
The promo concludes with Becca facing the men presumably on a group date, saying, "I feel so disrespected. If anyone else can't be honest, then I don't want you here."
Something tells me that this isn't about a fact already out in the open, like Jordan's record of Tinder matches or yet another layer of the Colton-Tia saga. The overall season teaser does hint at Lincoln eventually being the center of the drama, but if the preview's editing is to believed, it looks like the clothes of both Becca and the men at that point don't match with the clothing seen in next week's promo.
However, the season teaser does give us more footage of Becca talking to the men in Episode 4. ABC's editing skills are clearly the gift that keeps on giving. In the longer preview, Becca tells her contestants:
I don't know what the f*** is going on, and I'm so pissed because I only am asking for honesty from you guys. That's all I want, and to not get that, I feel so disrespected and I'm so upset with him, and it scares me. But if anyone else can't be honest with me from here on out, then I don't want you here.
What could that enigmatic "him" could have done? There's always the possibility of a secret girlfriend, but after the spectacle that was DeMario's past relationship drama last season, I don't think I'm ready for that plotline again. TBH, at this point of The Bachelorette's run, I need juicier dirt than a guy lying about a girl he's kept on a string. Who's with me?
This Episode 4 promo is definitely intriguing, and I have my fingers crossed that the drama the show is promising isn't anti-climatic. Whatever happens, it looks like we can expect Becca to kick butt as she sends an undeserving man home after his secret is out.
The Bachelorette returns on Monday, June 18, at 8 p.m. ET on ABC.