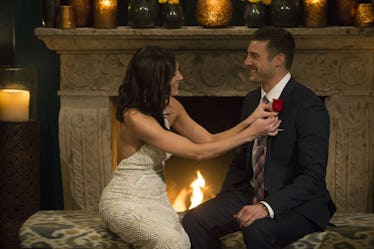 Becca & Garrett's Body Language On The First Night Of 'The Bachelorette' Is So Strong
DISNEY/ABC
It's official: The Bachelorette is back, and so is Becca Kufrin, the most Midwesterny Midwestern bachelorette ever. I mean, her catch phrase is "let's do the damn thing" — a phrase ripe for future Home Goods wall hangings if I've ever seen one. The 28-year-old Minnesotan seems incredibly genuine, which is why I'm rooting for her. Oh, that and because ABC brutally destroyed her last season by filming that time her fiancé broke up with her. But fear not, because already, Becca Kufrin and Garrett Yrigoyen's body language on The Bachelorette suggests girl is going to be fine.
Spoiler alert: Becca has shared that she got engaged during the filming of this season. After Monday's episode, it seems like there is one clear frontrunner to the race, and that dude is Garrett Yrigoyen. Garrett is a 29-year-old from Reno, Nevada who works in medical sales. ABC describes him as "a true outdoorsman who loves fly-fishing, hiking and snowshoeing." He also apparently does a mean Chris Farley impression.
But most importantly, Garrett received the "first impression rose" from Becca, as well as a kiss. It's worth noting that the past three Bachelorettes all ended up engaged to the recipients of their first impression rose. Plus, all of those Bachelorettes — Kaitlyn Bristowe, JoJo Fletcher, and Rachel Lindsay — kissed their future fiancés on the first night. The three appeared on last night's episode to give Becca some advice, and JoJo predicted, "Whoever she kisses tonight, or gives the first impression rose — keep an eye on them."
Garrett's entrance was also... interesting. He rolled in with a minivan with a car seat in the back of it, as well as diapers and soccer balls. He wanted to highlight "the great dad and awesome husband," he'll be one day. The move made me throw up in my mouth, but it delighted Becca. Garrett "reminds me of home," she shared. "My family would love him. I really like Garrett."
Because I'd like to know if Becca and Garrett are a done deal, or if I should keep watching, I spoke to body language expert Craig Baxter of All About Body Language, to gather his take on Becca and Garrett's body language. Here's what he shared.