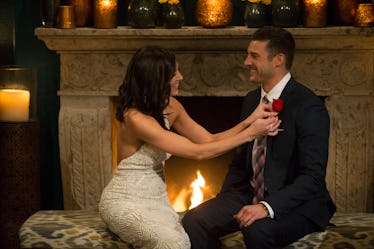 'The Bachelorette's Garrett Deleted Instagram After "Liking" Controversial Posts & Yikes
ABC/Paul Hebert
The first episode of Becca's Bachelorette season introduced Garrett — a medical sales rep from Reno, Nevada — as a contestant to watch. His unconventional non-limo entrance played out as an endearing gimmick that caught Becca's eye, as he showed up in a minivan filled with soccer balls and diaper bags. He even landed the coveted first impression rose and Becca admitted right off the bat that her family would love him. Now, there are reports swirling that The Bachelorette's Garrett deleted Instagram after "liking" controversial posts, which is raising eyebrows among Bachelor Nation.
According to The Huffington Post, Garrett Yrigoyen "appears to have a history of liking social media posts that mock trans people, undocumented immigrants, left-wing women and one Parkland high school student." His Instagram @garrett_yrigs1 apparently went private on May 24, and has since been deleted. Bachelor alum Ashley Spivey took screenshots of the off-color posts Garrett "liked" and posted them to Twitter after a now-private Instagram account called @imwatchingyuuo shared them on Wednesday. Among the images "liked" by Yrigoyen is a post accusing Parkland survivor David Hogg of pretending to be a student, and a meme that jokes about throwing children over the border "wall." The Huffington Post also uncovered more of Garrett's "likes" on the Instagram page Merica Supply Co. Garrett reportedly has a new Instagram account now under the handle @garrett.yrigoyen.
Elite Daily reached out to ABC reps for comment on the reports, but has not heard back at the time of this publication.
Garrett's social media history seem to indicate his political views lean on the conservative side. Becca's own Instagram has hinted at where she stands politically — she appears to have supported Hilary Clinton in the 2016 election (using the hashtag #imwithher to caption a post about voting), and she attended the women's march in 2017. Another photo from August of that same year shows her making what looks like middle finger gesture in front of a Trump/Pence structure at the Minnesota State Fair.
Considering the first impression rose and the glowing endorsement and positive words from Becca thus far, Garrett seems like a frontrunner on Becca's season at this stage in the game. The 29-year-old kicked things off with a Chris Farley impression in his intro package, then turned to the camera to state "I hope you're as good of a catch as they say you are," referencing his fondness for fishing. He's an outdoorsman who loves "anything that gets the heart going" who hopes Becca loves everything about him.
Chris Harrison weighed in on Garrett, even putting him in his "Top 5 Bachelorette Contestants Competing for Becca's Heart." The host told People:
Garrett is that guy that always makes it about Becca. He always puts her at ease. So she gravitates toward him. But there's a little backstory to Garrett. He's heartbroken, and it wasn't that long ago. So he's a little bit reluctant and he's definitely a very slow mover, which is very difficult for Becca to handle. That will come out over time.
Garrett made his presence known on the first episode by gifting Becca with a keepsake in the form of a fly for fly-fishing, after giving her a not-so-impromptu lesson in the sport.
"Garrett does remind me of home. I grew up fishing and hunting with my dad," Becca told the camera. "And to know that Garrett does that, he would fit in so well. My family would love him."
"You made me laugh and you made me feel so comfortable. I had such a good night with you and it makes me so hopeful for the rest of this," she told him just before offering up the first impression rose, which guaranteed he would be sticking around for at least a second week.