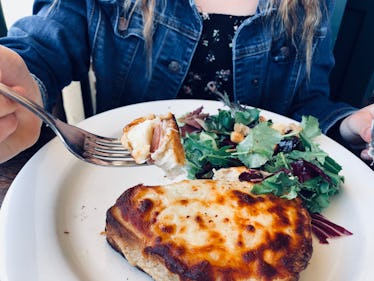 These Baked Brie Recipes On TikTok Will Cheese Up Your Content
Geri Lavrov/Moment/Getty Images
If you enjoy looking at delicious and cheesy recipes in your spare time, scrolling through TikTok can be a real treat. Along with feta pasta, egg sandwiches, and pizza wraps, TikTokers are showing off their baked brie recipes on TikTok, and they look un-brie-lievably tasty. From mouthwatering brie dips, to warm brie-filled pastry, to Insta-worthy sunflower-shaped brie bread, you'll want to make, taste, snap, and post every single baked brie recipe that's listed below for your next Bachelor night or fancy date night in.
If you're looking to cheese up your next charcuterie board, you could easily put together one of the fruit and nut brie dips for a centerpiece on your board. Then, surround it with sliced baguettes, crackers, honey, and sliced fruit. Or, if you're looking for something to prepare for a romantic living room picnic you're having with your partner, consider making a savory baked brie bread.
With this list of baked brie recipes on hand, your stomach will be full of cheesy goodness. Every presentation you put together will rate five out of five stars. Just don't forget to snap a pic or post your own TikTok video, because you know the cheesy content will be so on point.