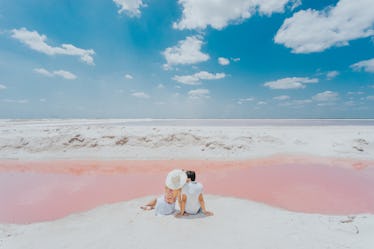 15 Underrated 25th Birthday Trip Ideas For Your Partner That Take The Cake
jin chu ferrer/Moment/Getty Images
Birthdays look a little different when you're an adult. Instead of opening presents and eating cake at home, you might be traveling the world. And if your love is hitting a major milestone, then you're the one in charge of finding 25th birthday trip ideas for your partner that are totally unique.
At first, you might be a little overwhelmed at the idea of coming up with an itinerary and planning a week-long trip to somewhere dreamy. What airline should you fly? What sights do you have to see? Being the travel agent in your relationship can be tricky. But every afternoon you spend researching the trendiest destinations and hidden eateries is so worth it when your partner opens their present and you see the look on their face.
The moment they see a couple of plane tickets sitting at the bottom of a perfectly-wrapped box — along with a guidebook for the greatest beaches in Portugal or hiking trails in Zion National Park — is priceless. They might let out a huge gasp or rush to hug you before asking a million questions about their birthday trip's itinerary. Here are a few ideas to get your trip plans started, and you well on your way to that beautiful reaction.