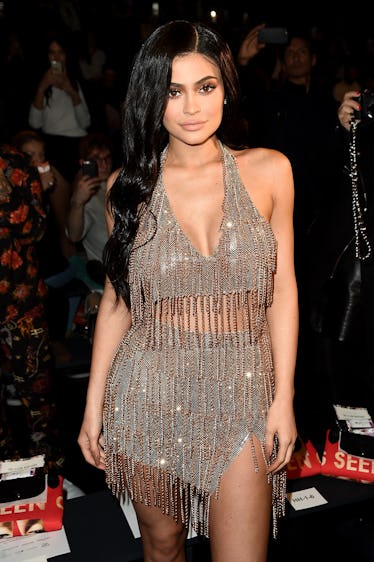 There's A Huge Clue About Kylie Jenner's Pregnancy On Her Assistant's Instagram
Nicholas Hunt/Getty Images Entertainment/Getty Images
After all this time, Kylie Jenner could just be trolling us all when it comes to the pregnancy rumors. She's been MIA on social media and in public since the fall, and we've all been thinking the same thing, "Where the hell are you?" The longer Kylie stays hidden, the more everyone is thinking the reported pregnancy rumors are true. I mean, they're getting a little hard to deny at this point. However, it could actually be the complete opposite. Jenner may have just dropped a breadcrumb that she's been truly messing with us the whole time. This clue on Instagram about Kylie Jenner's reported pregnant came from her assistant's social media account.
Kylie has been almost totally absent off social media since pregnancy rumors starting swirling in September... or so we all thought. She recently liked a photo on her assistant, Victoria Villarroel's, Instagram account. WHICH IS REALLY WEIRD FOR SOMEONE WHO IS APPARENTLY NEVER ON INSTAGRAM. Kylie, did you think we wouldn't notice? The photo that Kylie found so like-worthy features her bikini-clad assistant along with her sister, Sofia Villarroel, holding hands somewhere tropical. The caption reads, "one more bc we are in love."
Kylie hasn't even been liking photos from her BFF, Jordyn Woods, for the past four months, but has decided to come out of the woodwork to like her assistant's bikini pic. SUSPICIOUS AF. It's hard to believe that Kylie would do something like this by accident, but you never know.
What are you doing, Kylie? Have you really been messing with us the whole time? If so, WHY? Fans are getting suspicious that Kylie has been creeping on social media this whole time, and has been enjoying watching everyone comb through her social media account to try and guess about her reported pregnancy. If that is true, it's honestly cruel, Kylie.
If the pregnancy rumors are true, sources say that Kylie will be keeping it secret for the foreseeable future. It's been reported that Kylie might actually give birth before she makes an official announcement. An insider told People in November that, "Kylie wants to disappear and be out of the spotlight and focus on her health and happiness." They continued,
Kylie isn't going to publicly address her pregnancy until she gives birth. She's not doing any public appearances and just wanted to take six months off.
If this is true, we have four months down, two to go.
Recently, a source told Us Weekly on Jan. 10 that Kylie wants to keep this aspect of her life private. The source said,
She's very happy about the pregnancy but she doesn't want to share this with the world. Her not being out is strictly personal preference. She wants to keep this one aspect of her life private.
The source argued that Kylie has had her life plastered on television through Keeping Up With The Kardashians since she was 10 years old, so a little privacy is long overdue. The anonymous source made the valid point, "She's worked hard enough to do whatever she wants." The source continued,
She [Kylie] spent her adolescent life on television and has been famous for over 10 years now. If this is the first thing she wants to keep to herself, she should be allowed that.
If the pregnancy rumors are true, it is totally up to Kylie how she wants to handle it. She has to do what's best for her. Reportedly, Kylie and her rapper boyfriend, Travis Scott, are still doing well. According to Us Weekly, "Travis is telling friends that he and Kylie are the real deal." This is great for Kylie, whether the pregnancy rumors are true or not.
Hopefully, Kylie can give us a bigger clue about her reported pregnancy in the near future. Until then, I AM WATCHING.
Check out the entire Gen Why series and other videos on Facebook and the Bustle app across Apple TV, Roku, and Amazon Fire TV.