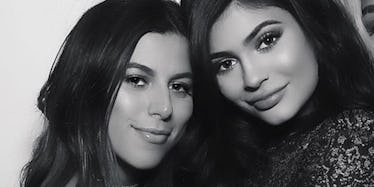 Kylie Jenner's Personal Assistant Reveals How She Landed Her Job
Instagram
What is it like to be Kylie Jenner's personal assistant?
Well, I'd imagine that it's a ton of work. I mean, Kylie is one of the most famous celebrities on the scene these days. Not to mention, she's always busy, which means her personal assistant MUST be busier.
What's their day-to-day schedule like? Do they ever go on break? Do they get to drive one of Kylie's many luxury cars? Are they allowed to look Tyga in the eye?
We'll likely never know all of the small details, but a new video shared on Kylie's official website helps paint a better picture for the curious people out there.
In a recent video shot for Kylie Jenner's official app and website, we're introduced to Kylie's personal assistant Victoria Villarroel Gamero in a segment titled "What It's Like to Be My Assistant."
Gamero, who's worked for Kylie for five years, starts off by simply admitting,
It's work, but it's fun.
She then proceeds to talk about how she first worked for Kris Jenner and used to see Kylie around while working.
At one point, Victoria grabbed Kylie's phone and put her number in her contacts under "Victoria the Princess."
Just years later, Victoria became Kylie Jenner's personal assistant -- and STILL goes by her self-given nickname.
It turns out Victoria might actually be a princess after all. Kylie seemingly posted an Instagram photo of her hugging her assistant and captioned the photo saying, "congratulations," with a heart and a ring emoji next to it.
Wait, did she just get engaged?! It sure seems like it. Kylie followed up with another post of Victoria getting engaged and recorded the entire thing for Instagram.
You do know what this means, right? Kylie's totally cool with her personal assistant dating and having a life of her own. Man, there really are perks to her job, huh?
I guess this makes Kylie a great boss!
Check out the video above.
Citations: Kylie Jenner's Assistant Revals How She Landed Her Job (Teen Vogue)