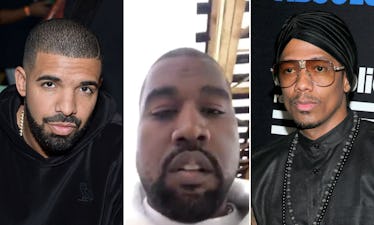 Kanye West Just Called Out Drake & Nick Cannon Over Talking About Kim K In A Video Rant
Grant Lamos IV/Getty Images Entertainment | Instagram/Kanye West | Jemal Countess/Getty Images Entertainment
Kanye West has officially changed his preferred rant social media platform from Twitter to Instagram. This time, he's coming for Drake, Nick Cannon, and Tyson Beckford. You might ask, "What do these three men have in common?" Oh, just that they've made reference to Kanye West's wife Kim Kardashian in one way or the other. Clearly, Yeezy is not having it. The videos of Kanye West calling out Nick Cannon and Drake are a LOT to take in, but you better believe fans just took a spontaneous work break to watch all the drama. Elite Daily reached out to West, Cannon, and Drake's teams for comment on the videos but did not hear back by the time of publication.
OK. Are you sitting down? Let's begin.
On Thursday, Sept. 20, West jumped on Instagram and posted a four-part video rant addressing the aforementioned men above. In the videos, West is seen walking underneath a raised train platform and holding the camera very low in front of him. He opens by stating, "I just want to address some things that are not sitting right with my spirit." Right away, he jumps on Nick Cannon.
Cannon recently participated in a video with VLAD TV in which he and the interviewer dug deep into celebrity plastic surgery and how beauty standards are affected by huge stars rumored to have had plastic surgery, like the Kardashians. As part of their conversation, Cannon talks about when he dated Kim way back in the day (like, 2006) and how she expressed wanting to change her body in various ways at the time.
"We used to talk about it and I used to tell her 'No,'" Cannon said. "She would talk about wanting stuff or being unhappy with certain things. I'd be like, 'Nah. You good. Embrace your flaws. That's your character.'"
Cannon also added, "To me, that's all insecurity and not really loving yourself for who you are."
Elite Daily reached out to Kardashian's teams for comment on Cannon's claims, but did not hear back by the time of publication.
But Kanye West does not appreciate the commentary, Nick.
In his first video, West says, "I understand you used to date my wife. But you get in an interview, don't mention my wife... Say, 'I respect that man. I ain't speaking on that.' Don't make no suggestions like nobody f*ck my wife."
Next up is Drake. Reading between the lines, West's biggest issue with Drake is that he hasn't made it explicitly clear that the woman he's referencing in his hit song "In My Feelings" is not Kim Kardashian. In the track, Drake famously keeps referring to a woman he calls "Kiki," which fans might recognize is also one of Kim's nicknames. While a few people, of course, are going to draw the connection, no one really believes Drake's song is an ode to Kim.
Still, Mr. West needed to clear the air. He said, "The fact that there's rumors or people thinking that you [Drake] f*cked my wife and you're not saying nothin' and you're carrying it like that... that don't sit well with my spirit."
West even draws a comparison hypothesizing if he had a girlfriend named Ranita, and Drake was married to Rihanna, he would not then go and make a song called "RiRi." Are you guys following?
West rounds off with a shoutout to Tyson Beckford who previously body-shamed Kim.
Beckford left a comment on Kim's outfit for her recent appearance on Jimmy Kimmel Live, saying, "Sorry, I Don't care for it personally. She is not real, doctor f*cked up on her right hip."
West exclaimed, "As far as Tyson Beckford goes. Don't speak on my wife, bro."
Yeezy ends his videos with an invitation for all three men to "holla" at him, and this clear, finite statement: "Nick Cannon, Drake, Tyson Beckford. All that wasn't sitting right with me."
I can practically hear Drake writing his response track now.
Fans are standing by to see what the men have to say.