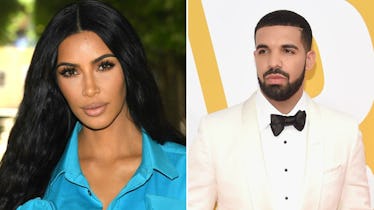 Kim K Just Responded To Rumors She Hooked Up With Drake After All Those Fan Theories
Pascal Le Segretain/Getty Images Entertainment/Getty Images | Jamie McCarthy/Getty Images Entertainment/Getty Images
Kim Kardashian is addressing rumors that Drake's "In My Feelings" is actually about her. While Kardashian enjoys the nickname Kiki at home, fans are starting to wonder whether the Kiki of Drake's hit song is actually in reference to a dalliance they once had. And Kardashian definitely has something to say about it. So, did Kim Kardashian hook up with Drake? Not according to her latest Instagram comment.
Elite Daily reached out to both Kardashian and Drake for comment on this story, but has not heard back at the time of publication.
TMZ broke the story with some information from an insider source. According to TMZ, sources close to Kardashian revealed that a hookup with Drake never happened, which seemed to contradict the many fan theories swirling around on social media.
Some fans are looking outside of "In My Feelings" for clues that Kiki is Kardashian. TMZ's report also cited Drake's collaboration with Travis Scott, who is partnered up with Kardashian's sister Kylie Jenner. Drake and Scott worked together on "Sicko Mode" which includes the lyrics, "I crept down the block, made a right, cut the lights, paid the price."
Apparently Drake and Kardashian live rather close, making this particular lyric all the more interesting to theorizing fans.
Kardashian herself hit back at one of those prevalent theories, even commenting on a video speculating about her history with Drake.
"Never happened. End of story," Kardashian wrote on Complex's Every Struggle video.
The Shade Room posted the video and the comment:
The video shows Nick Cannon and DJ Akademiks chatting during an episode of Everyday Struggle. In the video, they discuss the feud between Drake, Pusha T, and Kanye West (Kardashian's husband).
"I think Drake smashed Kim K," DJ Akademiks says in the video.
Then Cannon responded with, "That ain't that far off of a concept."
Needless to say, everyone's trying to make sense of it all. And amid all the drama, Kardashian and Drake are taking the high road, it seems.
Drake followed Kardashian on Instagram, making the whole situation all the more intriguing. TMZ's report about the rumor included a few details about the lukewarm relationship between Drake and Kardashian. Apparently, they have "mutual friends and are cordial when they have run into each other at events in the past, but they've never had a personal friendship or relationship."
So, it doesn't sound like there's much room there for a hookup, especially not one that inspired such an emotional song like "In My Feelings."
Not to mention, Kardashian's been married to West for some time. Are fans to believe that this supposed hookup happened before the marriage? And that Drake waited all this time to put out a song about it? Seems pretty far fetched.
It doesn't matter anyway since Kardashian shut it all down. With any luck, she and Drake can move past this and never have to think about such a rumor again. It's totally disrespectful and seems to have no basis whatsoever. Good for Kardashian for being on top of it!