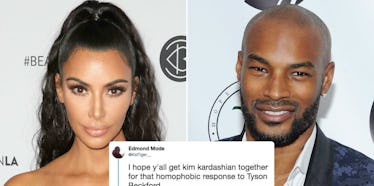 Fans Are Pissed About Kim K's Offensive Clapback To A Model Who Body-Shamed Her
David Livingston/Getty Images; Craig Barritt/Getty Images
It seems like Kim Kardashian is misstepping with every move she makes this week. She's been receiving harsh and warranted criticism on social media as a result of her pushing negative and triggering body standards, saying she has "nothing bad to say" about Donald Trump, and now, making homophobic comments in the name of defending her body. Tyson Beckford posted a body-shaming comment on Instagram about Kim Kardashian (which is also unacceptable on his end), and Kim Kardashian's response to Tyson Beckford body-shaming her is problematic as hell.
The popular Instagram account called The Shade Room posted a screenshot of Beckford's comments on a photo of Kardashian's look for Jimmy Kimmel Live. In the photo, Kardashian is wearing high-waisted velvet leggings with a one-shoulder crop top and heels. Beckford decided to drop his unsolicited opinion in the comments, writing, "Sorry I don't care for it personally. She is not real, doctor fucked up on her right hip."
Beckford's body-shaming Kardashian isn't acceptable, full stop. But Kardashian wiped out any possibility of the majority of people defending her with her equally unacceptable response. Kardashian commented back, "Sis we all know why you don't care for it" with the tea, frog, and fingernail emojis. This isn't a funny or "savage" clapback. This is a homophobic response that uses being gay as an insult. Wrong move, Kim.
People on Twitter are pissed at Kardashian's comment, and rightfully so.
To be clear, the homophobia doesn't lie in the fact that she used the word "sis." It's that she was shaming Beckford by means of saying "well, of course you don't like my body, you're gay." Not only is she implying that Tyson is gay because he doesn't like her body (which isn't necessarily the case), but she's also implying that being gay is something to be ashamed of in the process. The implication when people make comments such as these is that to be gay is to be an undesirable other. Being gay is nothing to be ashamed of and it shouldn't be used as a tool to shame people who, in Kim's case, dissed you. Being gay is not bad, and Kardashian seriously misstepped by using this form of shaming as a clapback.
Now let's talk about Beckford. He responded to all the talk about him and Kardashian on his Instagram story.
Tyson Beckford on Instagram
Tyson Beckford on Instagram
Beckford's story read, "Despite what @TheShadeRoom might be tryna say, my opinion on women who do plastic surgery stays the same, not for me! I personally don't care for it. Done end of story!" A second post on his story said, "Always gonna pick a Beyonce over anyone else." First of all, no one asked for Beckford's opinions on women who get plastic surgery when that photo of Kardashian was posted. He just inserted himself into that post with a body-shaming comment.
Kardashian can do whatever she wants with her body — her choices are her own to make. We don't even know for sure if she has had plastic surgery on her body — and even if she did, again, that's her choice. His comments are just another example of people trying to police women's bodies, and I don't think Beyoncé would find his "preference" for her flattering. Queen Bey doesn't have to like Kim K to know and respect that she can do whatever she wants with her body.
Just because Kim Kardashian is free to make whatever choices she wants about her own body, however, does not make it acceptable for her to act as if being called anorexic by her sisters is a compliment. (Yes, that happened. Are you all exhausted yet? I f*cking am.)
Kim Kardashian, Khloé Kardashian, and Kendall Jenner were at a poker tournament on Sunday, July 29, when Kim posted videos of Khloé and Kendall telling her how skinny she looked to her Instagram story. Jenner said in the video, "I don't think you're eating. Like you look so skinny." And this wasn't concern. This was praise. Khloé added, "I've never seen a human being look as good. You are a walking Face Tune doll."
When Jenner said to Kardashian that she doesn't look like she's eating, she's so skinny, Kardashian literally squealed in excitement and said, "WHAT?! Oh my god, thank you!" Jenner later added, "My purse is as tiny as you," and Kardashian, yet again, was delighted to hear these "compliments."
Khloé Kardashian said in another video that parts of Kim K's body look "anorexic," and Kardashian's caption on that video was "TELL ME MORE."
Acting like a serious and life-threatening eating disorder could be used as a compliment promotes extremely negative and triggering body standards.
People on Twitter were harshly critical of Kardashian's story, and rightfully so.
I'm so tired, y'all.