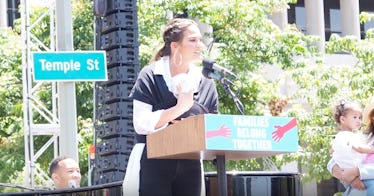 You Have To See Chrissy Teigen's Powerful Message At The Families Belong Together March
Saturday, June 30 saw people all across the country gather to partake in the Families Belong Together March. There were plenty of famous faces at the Los Angeles sister march to protest the Trump administration's policy of separating and detaining immigrant families at the U.S. border. Chrissy Teigen was at the march with her family, and she took to the stage to speak out against the policy. The video of Chrissy Teigen's speech at the Families Belong Together march is so powerful, and you have to see it.
Teigen held Miles, her baby son, in her arms as she delivered an impassioned message about how immigrants positively contribute to the United States. The Cravings author proudly shared that she is the daughter of an immigrant as she was joined on stage by her mother, Vilailuck Teigen. Per a video of Teigen's speech posted on The Los Angeles Times Twitter account, her mother "grew up in a very small village in Thailand," and Vilailuck held her granddaughter, Luna, as Teigen spoke. Teigen's husband, John Legend, was also on the stage as Teigen spoke out against the "...cruelty in the hearts of the people who've enacted this policy."
The bulk of Teigen's speech was about speaking out against the demonization of immigrants, while also highlighting the contributions of immigrants. She explained, "Making America greater most definitely doesn't mean turning asylum seekers away or kidnapping their kids to turn them away from coming here."
Teigen also shared how immigrants contribute to what makes America great. She said:
We love that the American story is filled with people who come from all over the world to have a better life here. America at its best is big, beautiful, and diverse, like our great city of Los Angeles. It's not small. It's not petty, and not exclusive, like Mar a Lago...
Teigen added her signature humor when she did a momentary impression of President Donald Trump talking about the "tremendous exclusivity" of the Trump's Florida resort. After her comic relief, Teigen got right back to the issue at hand. She expanded on her love of immigrants when she said:
Too many people demonize immigrants, like they're stealing something from the people born here. Immigrants don't come here to take from us; they add to what makes America special. Making America great doesn't mean building walls to keep people out. It means continuing to embrace the dreams of immigrants who add to our culture, our economy, and our humanity.
Teigen was one of thousands of people speaking out against the "zero tolerance" immigration policy enacted by President Donald Trump and his administration in early April. The official Families Belong Together march was in Washington D.C., and there were also over 700 sister marches across the country.
The "zero tolerance" immigration policy means that all adults who cross the U.S. border without authorization will be prosecuted, and they are separated from any children crossing with them, because the children cannot go through the criminal justice system. The policy has received harsh criticism from Republicans and Democrats. Attorney General Jeff Sessions expanded on what the policy means when he spoke about it at a law enforcement event in Scottsdale, Arizona in May. According to Time, Sessions said:
If you are smuggling a child then we will prosecute you, and that child will be separated from you as required by law. If you don't like that, then don't smuggle children over our border.
President Trump signed an executive order on June 20 that doesn't end the "zero tolerance" policy but vows to keep families together, "consistent with law and available resources." Saturday's march to protest the policy of separating families went on in spite of the executive order, because the problem isn't over.
It was reported by the Department of Homeland Security (DHS) on Saturday, June 23 that 522 migrant children were reunited with their guardians, but there are 2,053 separated migrant children still in the custody of the Department of Health and Human Services (HHS).
The June 23 report also detailed the DHS reunification plan of the migrant children with their migrant parents. Per CNN, the process can only take place once the parents' deportation proceedings have concluded. As for how long that takes, CNBC reported that those "deportation proceedings could take months to complete," and the migrant children and parents remain separated during that time.
It's uncertainties like this in the reunification plan that have people — like Teigen — speaking out. Teigen has been involved in fighting this "zero tolerance" immigration policy for awhile. In fact, she and Legend donated $72,000 to the American Civil Liberties Union (ACLU) from each member of their family in honor of Trump's 72nd birthday on June 14.
Teigen clearly cares about the cause, and she ended her speech on Saturday by reaffirming that she is not going anywhere until all of the migrant families are reunited. Teigen exclaimed, "We are here, and we are not going away." With her powerful message of inclusivity and respect for immigrant families, I am glad to hear that Teigen is "not going away."