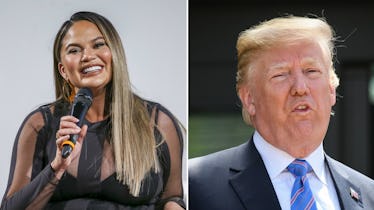 Chrissy Teigen Sent Donald Trump A Stinging "Happy Birthday" Message
Rich Polk/ Leon Neal/Getty Images
President Donald Trump's 72nd birthday on June 14 is contemporaneous with Father's Day, and more sinisterly, the fruition of harsh immigration policy he promised to deliver on the campaign trail. In April, U.S. Attorney General Jeff Sessions ordered prosecutors to implement his "zero tolerance" policy at the Mexico border — punishing illegal immigrants regardless of whether they are first-time offenders, asylum-seekers, or parents with small children. The stark contrast between Trump's birthday fanfare and the conditions for migrant families being separated at the border was not lost on Chrissy Teigen, and thankfully she delivered a breath of fresh air in the middle of all of this. Chrissy Teigen's birthday message for Trump calls out "horror stories" of immigration policy at the border, and it's a welcome break from terrible headlines.
Teigen announced that each member of her family donated $72,000 to the American Civil Liberties Union, as a gesture to mark Trump's 72nd birthday.
"John and I are outraged to see and hear the horror stories of immigrant families seeking asylum and refuge in America being ripped apart due to the inhumane policies of the Trump administration. These actions are cruel, anti-family and go against everything we believe this country should represent," Teigen wrote on social media. "On this auspicious occasion, in order to Make Trump's Birthday Great Again, each member of our family has donated $72,000 to the ACLU."
The horror stories Teigen was apparently referring to stem from a recent change in immigration policy. Before the new Trump administration's "zero tolerance" policy, there was a more relaxed (and arguably, humane) approach to handling asylum seekers and families with small children. Now, as The Intercept's reporter Ryan Devereaux noted on Twitter, everyone gets prosecuted.
"A public defender [in Tucson, Arizona] told me that in terms of family separations, most of the cases she's seen have involved first time offenders," Devereaux added. "That's a federal misdemeanor. People are losing their kids over misdemeanors."
MSNBC journalist Jacob Soboroff was among the first journalists allowed inside a shelter for unaccompanied migrant children in Texas, called Casa Padre. Soboroff described the tour in a grim Twitter thread on Wednesday, June 13,
I have been inside a federal prison and county jails. This place is called a shelter but these kids are incarcerated. No cells and no cages, and they get to go to classes about American history and watch Moana, but they're in custody.
The surge of prosecuting those trying to cross the border, in addition to tearing families apart and detaining children in prison-like conditions, is also stressing the court system. The Appeal reporter Max Rivlin-Nadler reported that public defenders are experiencing their clients being detained in remote facilities, and therefore can't consult with defense attorneys before appearing in court. Many are being coerced into accepting plea deals just to get out of jail in the chaos.
The argument from right-wing Trumpsters about the urgency of this "zero tolerance" illegal immigration policy doesn't quite add up. Advocates for tighter immigration laws often say that they don't mind legal immigrants, it's just those pesky illegal immigrants that are sailing into America to absorb all the benefits. But the Trump administration is reportedly making it harder for immigrants to seek asylum — which is a completely legal process.
As Vox reporter Dara Lind reported, there are two ways to come to the U.S. to claim asylum without having papers: Either approach the U.S. at an official port of entry and present yourself to agents of Customs and Border Protection (CBP), or cross into the border and indicate to CBP agents that you're seeking asylum. Some who try to seek asylum the "right way" have been turned away, per Vox, and there's evidence that CBP agents are physically blocking some asylum seekers from setting foot on U.S. soil (and therefore, they cannot surrender to agents and seek asylum legally.)
Teigen's gesture is a welcome one, and it comes (in addition to being on Trump's birthday) as hundreds protested the Trump administration policies across the country on Thursday, June 14.
"To separate immigrant families, victims of violence, hunger and poverty, is to re-violate them," Families Belong Together, the group that organized the protests, wrote on their website. "Children as young as 18 months are torn from their mother's arms by the U.S. government. This is violent abuse. These families are victimized again by the government to which they turn for help. Families Belong Together opposes the inhumane policies of the Trump Administration, Border Patrol, and I.C.E. and calls for immediate reform."
If you would like to join Teigen and her family, as she indicated in her post, you can visit www.aclu.org/72 and donate whatever you wish. At least someone is out there recognizing the absurdity of Father's Day being this weekend and is doing whatever she can.