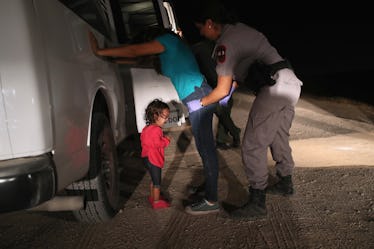 Migrant Children Are Being Reunited With Their Families, But There's Still A Lot To Do
John Moore/Getty Images News/Getty Images
Ever since the Trump administration announced its "zero tolerance" immigration policy along the southern U.S. border, thousands of children have been separated from their parents. But on Saturday, June 23, the Department of Homeland Security (DHS) released a factsheet for how it plans to reunite families that have been separated. So, how many migrant children have been reunited with their families? Well, there's still a long way to go.
In the factsheet, called "Zero-Tolerance Prosecution and Family Reunification, DHS said that 522 migrant children have been reunited with the guardians they were separated from under the zero tolerance policy. It also stated that 2,053 separated migrant children are still in the custody of the Department of Health and Human Services' (HHS) Office of Refugee Resettlement (ORR) since the policy's implementation in early May.
The DHS factsheet further reported that 16 additional migrant children were set to be reunited with their parents, but they "were delayed due to weather affecting travel." With that, there are still more than 2,000 children in HHS custody after being forcibly removed from their parents at the southern U.S. border. The factsheet notes the "United States government knows the location of all children in its custody and is working to reunite them with their families," but there is no more information provided beyond the 522 successful and 16 delayed reunifications. The Department of Homeland Security did not immediately respond to a request for comment on details of the policy.
DHS also revealed in this factsheet that there will be a "small number" of children who will remain separated from their parents for one of the following three reasons: a "familial relationship cannot be confirmed, we believe the adult is a threat to the safety of the child, or the adult is a criminal alien." It is important to note that the factsheet didn't specify exactly how many children are included in that "small number." The DHS factsheet also did not address how cases of asylum would be handled for parents who wish to claim asylum for themselves and their children, per CNBC.
The department explained in the factsheet that after families are "initially detained by U.S. Customs and Border Protection (CBP)," the children are sent to ORR, and the parents go to Immigration and Customs Enforcement (ICE). The reunification plan only brings the child and parent together when the parents' deportation proceedings have been completed, per CNN. According to CNBC, those "deportation proceedings could take months to complete," and in the meantime, children and parents remain in ORR and ICE custody, respectively.
The administration's "zero tolerance" policy, introduced in early April, instructed that all adults who crossed the border without authorization be prosecuted, meaning that they would be separated from any children with them as the children could not go through the criminal justice system. Attorney General Jeff Sessions expanded on what the "zero tolerance" policy means when he spoke about it at a law enforcement event in Scottsdale, Arizona in May. Per Time, Sessions said of the policy:
If you are smuggling a child then we will prosecute you, and that child will be separated from you as required by law. If you don't like that, then don't smuggle children over our border.
The policy was met with harsh criticism by those on both sides of the aisle who saw it as cruel and inhumane. The images of migrant children behind chain-link fences in CPB facilities are tough to look at, and per NPR, it is illegal to detain a child there for more than three days. Many critics were also troubled by the fact that the administration did not appear to have a plan to reunite families which were separated. Advocates also reported bureaucratic barriers preventing parents from finding out where their children were.
The factsheet said that separated minors in HHS custody are able to communicate with parents or guardians via a phone or video chat twice per week, but CNBC reported a different reality. Sirine Shebaya, a senior staff attorney with Muslim Advocates visited Port Isabel in Texas, the main center for reunification and removal per the fact sheet, on Friday and Saturday, June 22 and 23, and she reported that parents couldn't connect with their children using the phone numbers provided to them. Shebaya added that parents who did get someone on the phone were often told they would get a call back, instead of being connected with their child. Elite Daily reached out to HHS for comment on these claims but hasn't heard back at the time of publication.
On Wednesday, June 20, President Donald Trump signed an executive order that doesn't end the "zero tolerance" policy but vows to keep families together, "consistent with law and available resources." But before the order, many parents were already deported without their children. Per USA Today, it is not clear how many parents were deported with no information about where children were or how they might get them back. The publication also notes that migrant parents might choose to be deported without their child to save them from whatever violence or danger they were fleeing from in their native country.
So, while there is some glimmer of hope for the 522 children reunited with their parents, there are still more questions about what will happen to the remaining 2,053 migrant children in HHS custody. Clearly, there's still a lot of work to be done.