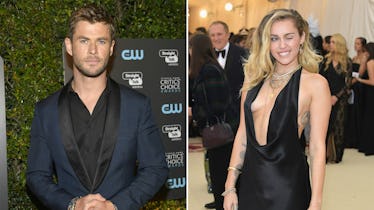 Chris Hemsworth Dancing To Miley Cyrus' "Wrecking Ball" With His Kids Is Beyond Perfect
Matt Winkelmeyer & Neilson Barnard/Getty Images Entertainment/Getty Images
Is there anything more attractive than a smokin' hot dad hanging out with his kids and a dog? YES. A smokin' hot dad hanging out with his kids and a dog while rocking out to "Wrecking Ball" by Miley Cyrus. Now, make that dad Miley's future brother-in-law and you've got yourself the world's best video on the internet. The video of Chris Hemsworth dancing to Miley Cyrus with his kids is nothing short of perfection, making me somehow simultaneously want to marry Hemsworth and have him adopt me.
As you guys know, the Hemsworth brothers are a little bit of a natural phenomenon. With their suspiciously good looks, independent successful acting careers, and jealousy-inducing personal lives, it's hard not to love them. Usually, Chris posts pictures from red carpets or catching some gnar (surfers, am I saying that right?) on huge waves in his wetsuit. But, not this time. This time, Hemsworth is getting his groove on with his daughter and other young children while blasting "Wrecking Ball." The dog gets in on it, the kids are going wild, and Hemsworth ends up rolling around on the floor. A.k.a. the best video of all time.
Hemsworth tagged both Liam and Cyrus, captioning the video:
What started as a ground breaking music video ended in a savage attack by a cowardly K9. Never work with Kids or Animals. #wreckingball#wreckingdog#daddydaycare#murderonthedancefloor @mileycyrus @liamhemsworth
Also, let's all just take a moment to analyze what a famous person's living room looks like. Ah yes, a ginormous couch, floor to ceiling windows, and what I can only assume is a kitchen table that sits 16 (minimum) are all there. Checks out.
The truth is, life is much better for everyone since Chris' brother and Cyrus worked things out. After a stressful on-again, off-again romance, the award-winning singer and Hunger Games actor finally found their way back together. With Cyrus' latest album, Younger Now, came a new era of her and Liam's relationship. She wrote the love ballad, "Malibu," about their relationship and basically, now everyone can have fun together again. The fact that Chris is tagging her in his posts alongside his brother shows how far they've really come.
Today, Liam and Cyrus are engaged but there is no confirmed wedding date. From what fans can tell, they're simply enjoying their engagement and taking their time getting to the aisle. When Chris stopped by SiriusXM Studios' Sway in the Morning in early January, he confirmed his brother has yet to tie the knot. Chris then called Cyrus "a lot of fun." Lol. He said, "I always just expect her to put on a show, belt a few songs out. But she never does. I'm insisting consistently, 'When is the performance coming?' But no, she's a lot of fun."
Chris also said Liam hasn't come to him for marriage advice or anything like that. In fact, he thinks his little bro will be just fine on his own. Chris explained based on his own experience, marriage advice isn't necessary, saying:
No…I've asked my mom about marriage and kids and [she's] said, 'Look, we've been doing it for a long, long time that if there was an answer to it, and a way to do it properly, we'd have it figured out. There would be one book that says here's how to do it.' No, he doesn't need my advice.
Ok, I believe you. I just can't imagine how much fun your family Christmas parties must be! Next time you, your kids, and your dog are getting down with your bad selves, please call me, Chris.
Check out the entire Gen Why series and other videos on Facebook and the Bustle app across Apple TV, Roku, and Amazon Fire TV.