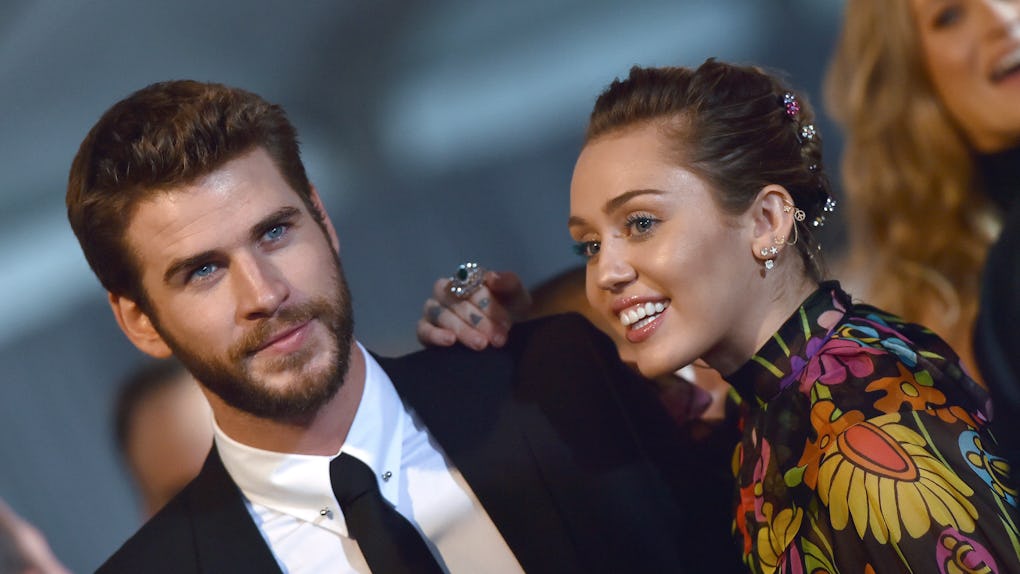 Axelle/Bauer-Griffin / Getty Images
Are Miley Cyrus & Liam Hemsworth Married? Stars Seen Wearing Rings On Those Fingers
Miley Cyrus and Liam Hemsworth recently had a romantic little getaway to the place where they filmed The Last Song, and I can handle none of it. The couple was seen exploring Tybee Island over the weekend— an island off the coast of Savannah, Georgia, where they first met and fell in love. You're sobbing, I know. Hemsworth's currently filming a movie on the island, so Cyrus popped in for a few days to visit. But new pictures show Cyrus and Hemsworth wearing rings on *those* fingers while out on Tybee Island, so are Miley Cyrus and Liam Hemsworth married?! Elite Daily reached out to Cyrus and Hemsworth's teams for comment, but did not hear back by time of publication.
Ever since they got back together in 2016, they've been denying any marriage rumors that came their way, but looking at these pictures, it's kind of hard to imagine Hemsworth just decided to pop what looks a hell of a lot like a wedding band onto his ring finger just for kicks... Who knows, maybe Hemsworth decided he wanted an engagement ring for himself (which is a thing I totally support more men doing) and thought this one was nice? Or maybe his character in the movie he's currently filming is married and he forgot to take off that part of his costume? Either way, rumors that Cyrus and Hemsworth already got married are definitely only going to get stronger now. One thing's for sure, these pictures of Miley Cyrus and Liam Hemsworth on Tybee Island are equal parts amazing and confusing.
What am I supposed to think about these pictures of you wearing a wedding rings, Miley and Liam?! (She's wearing both her engagement ring and another band in these photos.)
Are you guys married?! Tell me.
I definitely do not feel younger now 'cause this sh*t is stressing me out.
This ring he's wearing looks a hell of a lot like the one he was spotted wearing back in August when rumors they already got married in secret started circling.
Dear Miley and Liam, if that's just an engagement ring Liam is wearing, please let me know. I'm dying over here! As we all know by now, Cyrus and Hemsworth got back together in 2016 after calling off their engagement in 2013. And their relationship has been one of the internet's favorite things ever since rekindling their romance. But you know who's more excited about them being back together than we are? Cyrus and Hemsworth. These two literally cannot get enough of each other, and their social media accounts/interviews prove it.
In a recent interview with Howard Stern, Cyrus revealed that even when Hemsworth moved out of their house and into a new home in Malibu after they broke up, their lives still found a way to be connected to each other. She told Stern that Hemsworth moved into the house in Malibu that they now share without knowing Cyrus had used it to film her Meet Miley Cyrus album back in her Hannah Montana days. She said,
When we broke up, he wanted to get away from me ... The person hid all the plaques in the garage so he would still buy the house. So then he went to move in and he was like, 'F*ck! I cannot get away. This b*tch is all over my f*cking house!'
The ironic thing now is this is the very same house Cyrus is singing about in her song "Malibu." In another interview with The Sun, Cyrus tried to calm down the rumors that she and Hemsworth already got married by saying they aren't in a rush to say their vows. She told the outlet,
I don't envision marriage. I'm 24. I hope I get to live a little bit more. I have too much living to do [before I get married].
So what do you have to say about these pictures, Miley?! Cyrus' mom even tried to quell the marriage rumors in an interview with Mario Lopez. When asked if the couple had already tied the knot, Tish Cyrus said,
She is not getting married. They are so freaking happy and living in Malibu. She's so happy and she's always like, 'I don't know why everybody wants us to get married.' It's so perfect.
Something doesn't match up here, fam.