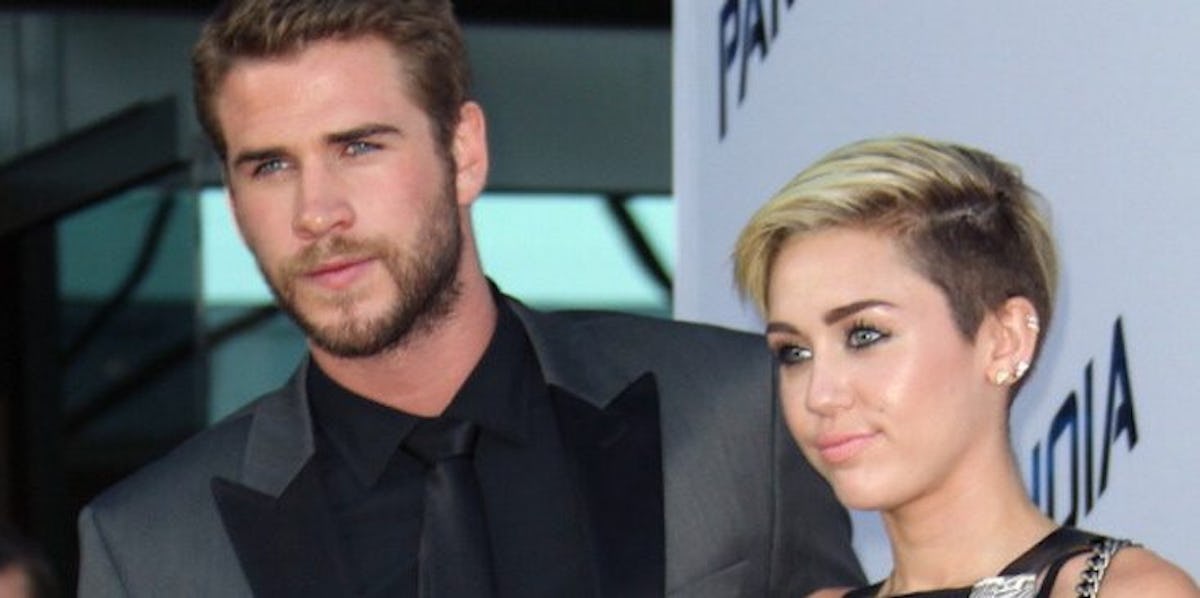 Liam Hemsworth Sparks Miley Cyrus Wedding Rumors After Wearing Ring On That Finger
David Livingston/Getty Images
If you like it, then you better put a ring on it, Liam and Miley! The superstar and super on-again off-again couple are back on the rumor mill yet again with this juicy and surprising gossip. The rumor Liam Hemsworth and Miley Cyrus got married all started after Hemsworth was spotted with a shiny, silver ring on his wedding finger. Now, we are all freaking our freaks. Please say it ain't so! We weren't prepared for this sort of news! Elite Daily reached out to Hemsworth and Cyrus' teams for comment on the rumors, but did not hear back in time of publication.
The celeb couple has been together for more than seven years, although they've had their many struggles. The pair confirmed their relationship way back in 2010 at the Acadamy Awards, and then shared their engagement news two years later in 2012 before taking a break in 2013. That's a lot of ups and downs. They surprisingly got back together in 2016, and the two seem better than ever.
The secret wedding rumors spread after the Hunger Games star was caught with Cyrus' mom, Tish, this past weekend at their private estate in Kentucky. Liam with Miley's mom? With a wedding ring on? In Kentucky? Sounds like wedding bells to me. Though, according to TMZ, the rumors about Miley Cyrus and Liam Hemsworth are not true. Sources told the outlet they are "100 percent not hitched." Darn.
It looks like Hemsworth and Cyrus didn't end up having a top secret getaway wedding in Kentucky after all, but we will continue the hunt for clues and exclusive wedding ring photos. Hemsworth is either a big jewelry wearing type of dude or enjoys messing with the entire world. If that's the case, he's doing a great job.
When these two lovebirds finally get married, the internet might actually explode, and we can't wait. Just tie the knot already! We can't stop, and we won't stop rooting for you guys.