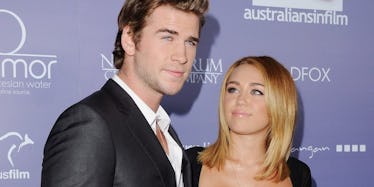 The 5 Most Adorable Things Miley Cyrus Has Said About Liam Hemsworth
Getty
It's not too often we see a famous young couple break up then get back together again, and still seem totally head-over-heels in love with each other.
But that's the case with Miley Cyrus and Liam Hemsworth, who have been one of the most loving couples in Hollywood for almost a decade now.
And it sounds like Miley and Liam are in a better place than ever before these days; Miley even dedicated her romantic new single, "Malibu," to Liam.
The cute couple has been gushing about one another for years and saying some of the most heartfelt, romantic things about their relationship.
Let's look back at some of the most awww-worthy things Miley has said about Liam:
Constant Compliments
Right before they were officially dating, Miley gave the first clues she was falling for Liam in a 2009 interview with Seventeen, saying he's always super supportive of her.
All you want is for one person to say, 'You did a really good job today,' or 'You look really beautiful,' or 'I was really moved by that,' You just want one person to make you feel good about something you're doing. Liam has been a big part of that.
Too Pretty
Miley has never shied away from talking about her physical attraction to Liam. In a 2010 interview with Entertainment Tonight, she sweetly talked about how she was actually worried when she was starting to date Liam because of how hot he is.
I don't know who had a bigger crush on him in the beginning, my mom or me. I was like, no, maybe he's just, you know, too pretty. I don't want to be with someone that's, like, better-looking than me. That's, like, awkward, everyone staring at them and not you.
The Perfect Gentleman
But it wasn't just Liam's looks that had Miley hooked. In a 2010 interview on The Ellen DeGeneres Show, Miley talked about how Liam's chivalry was what really impressed her about him.
I met him, and he opened the door for me and I was like, 'I've been in LA three years, and I don't think any guy has actually opened the door for me [...] It wasn't like he wanted the job, it's just because that's who he is. And I was like, 'Wow, that's super impressive.'
She Still Can't Believe It!
Miley's appreciation for Liam's hotness hasn't gone away with time. Back when they were first engaged in 2013, Miley told Cosmopolitan about how she still gets shocked at how hot Liam is.
I'll literally look at him and be like 'You are hot, dear god!' The other day, I turned on the pool heater and it was steaming, and he walked outside and took off his clothes and jumped in the pool. I was like, 'I'm gonna faint -- the hottest guy of my life is in a steaming pool. This looks like a Playgirl shoot.' So I took a photo and made it the background on my phone. My best friend grabbed my phone and was like, 'Who's that? He is so hot!' That's my hubby!
Freedom To Be Yourself
One break up and subsequent reconnection later, and Miley and Liam's relationship is stronger than ever. Miley opened up about what her relationship with Liam is like nowadays in a recent radio interview, saying they work so well because they give each other freedom to do their own things.
I think that's what is wrong with a lot of relationships if you don't have time to be able to be yourself. I just love that my dude doesn't really make me do that. He gets to do his thing and I get to do my thing, and then he inspires cool music and gets me to go to the beach more than I ever would.