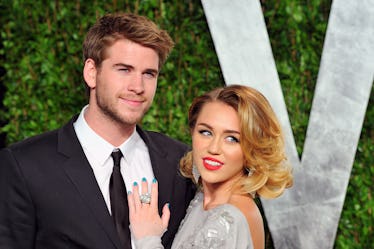 Miley Cyrus Revealed The Real Inspiration Behind "Malibu" And It's Not What You Think
Alberto E. Rodriguez/Getty Images Entertainment/Getty Images
Miley Cyrus and Liam Hemsworth are happily back together now, but we all remember that three-year hiatus they took from 2013 to 2016. Cyrus' new album, Younger Now, is a lot about their breakup and a lot about them getting back together, and while promoting the album, Cyrus has been providing a lot more of the small details about their time apart and how they got back together. In a recent interview with Howard Stern, Cyrus further revealed the meaning of "Malibu" and all of the context that led up to it. We already knew it was about her rekindled romance with Hemsworth, but now we know it's so much more than that.
Cyrus told Stern that when she and Hemsworth broke up in 2013, he moved out of Cyrus' house in Studio City and into a house in Malibu that they now share together. But get this: Until he had already bought the house, Hemsworth had no idea Cyrus had occupied the very same house to record her first non-Hannah Montana album, Meet Miley Cyrus. The person selling the house to Hemsworth apparently hid all of the items commemorating that time in the garage so he wouldn't back out of buying it! Cyrus said,
When we broke up, he wanted to get away from me ... The person hid all the plaques in the garage so he would still buy the house. So then he went to move in and he was like, 'F*ck! I cannot get away. This b*tch is all over my f*cking house!'
LOL, OOPS. Guess Hemsworth should've done a little more digging! Cyrus said to Stern that she thinks this was fate having a "funny, f*cking crazy" way of keeping the two of them connected somehow. And connected they stayed, as they're now living in that Malibu house together and all of this inspired the song "Malibu." The more you know, the cuter this couple gets.
Cyrus said she and Hemsworth had a lot of individual growing to do before they could get back together, though.
In a recent interview with The Sun, she said she didn't always know they would get back together, but something in her gut told her they weren't over. She said,
I didn't know [we'd get back together]. I'm so crazy I have no idea. But I had something in my heart, it never felt like it was really over. We kept a great friendship really private. It's good for people to have that space to grow individually. Otherwise when you're with someone from 16 until 24, you grow into the same person.
And although they are reportedly engaged, Cyrus doesn't want to rush into marriage anytime soon. In fact, it seems like they haven't even started making plans for their wedding; they're just enjoying life together and taking each day as it comes. She told The Sun,
I don't envision marriage. I'm 24. I hope I get to live a little bit more. I have too much living to do [before I get married].
She made it clear that she and Hemsworth are more than perfectly happy with the ways things are going for them right now, and it's a balance she wants to make sure she preserves. She said,
Three years ago, if you'd asked me if I'd be here, this happy with this man, I'd have been stunned. I'm just riding this out. In some relationships, you lose yourself by being with someone else. Actually, it made me find myself more. I have no idea what the next three years will bring, but if it's possible to get even happier, I'll take it.
Her mother, Tish Cyrus, added more fuel to this in an interview with Mario Lopez. When asked to address the rumors that Cyrus and Hemsworth had already gotten married in secret, she said,
She is not getting married. They are so freaking happy and living in Malibu. She's so happy and she's always like, 'I don't know why everybody wants us to get married. It's so perfect.'
So that's it, people! Miley Cyrus and Liam Hemworth's relationship has a touch of destiny about it, and I'm here for it.
Also, if you haven't been watching Cyrus' performances on The Tonight Show this week, you need to. She is a full-on rockstar.
She's just being Miley.