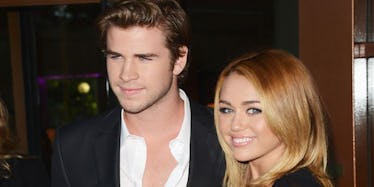 Miley Cyrus Revealed When She And Liam Are Getting Married And Don't Hold Your Breath
Jason Merritt/Getty Images for AIF
If you were hoping we'd be seeing Miley Cyrus and Liam Hemsworth get married soon, I'm sorry to break it to you, but we're going to have to wait a while before that happens. Don't panic! They're still engaged, very much so. They're just not in a rush to walk down the aisle yet. Nope, according to the singer herself, Miley Cyrus and Liam Hemsworth's wedding won't be happening anytime soon.
In a recent interview with The Sun, Cyrus revealed she doesn't "envision" marriage with Hemsworth. She said, "I don't envision marriage. I'm 24. I hope I get to live a little bit more. I have too much living to do [before I get married]." But that doesn't mean they're not getting married! She confirmed she and Hemsworth are still together and are very happy and in love. They just want to take their time and live some more before tying the knot. They've been together for so long already, what's a few more years?
The couple seems stronger than ever after breaking up in September 2013. Rumors they got back together (and got engaged again) started circulating in 2016; they confirmed it themselves in October 2016, and all was right in the world. (Lol, just kidding, everything is still so awful, but these two are cute.)
While we're on the topic of the breakup... Cyrus finally revealed how she and Hemsworth got back together after three years apart. And even though they had to break up in order to be stronger when they got back together, Cyrus thinks that's a good thing. She said,
I didn't know [we'd get back together]. I'm so crazy I have no idea. But I had something in my heart, it never felt like it was really over. We kept a great friendship really private.
So basically, they broke up, then became friends again, and then fell in love again. Swoon. She also gushed over how happy she is with Hemsworth, and my heart is bursting. The "Younger Now" singer said,
Three years ago, if you'd asked me if I'd be here, this happy with this man, I'd have been stunned. I'm just riding this out. In some relationships, you lose yourself by being with someone else. Actually, it made me find myself more. I have no idea what the next three years will bring, but if it's possible to get even happier, I'll take it.
When it comes to why she thinks the breakup was a healthy thing for her and Hemsworth, Cyrus said, "It's good for people to have that space to grow individually." She added,
Otherwise when you're with someone from 16 until 24, you grow into the same person. We got to become individuals.
This sounds healthier than any relationship I've ever had in my entire life. GO MILEY AND LIAM! There have been rumors going around for months that the couple already got married, but Cyrus' mom shut that down back in June. She said in an interview with Mario Lopez,
She is not getting married. They are so freaking happy and living in Malibu. She's so happy and she's always like, 'I don't know why everybody wants us to get married. It's so perfect.'
Cyrus echoed her mom's statement in her interview with The Sun when she said she wants nothing with Hemsworth to change. She said, "I hope everything stays the same. It feels like nothing changed except we grew up a lot." So no, we won't be getting an invitation to the Cyrus/Hemsworth wedding anytime soon, but it's not like we were going to get one in the first place. Cyrus' new album, Younger Now, comes out Sept. 29, and we can expect to hear a lot of songs about Liam Hemsworth.