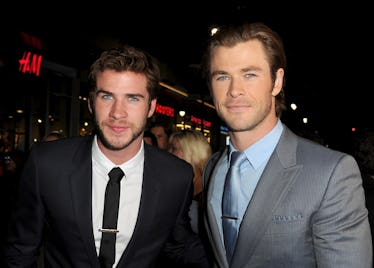 The Internet Just Realized Chris & Liam Hemsworth's Dad Is Ridiculously Hot
Kevin Winter/Getty Images Entertainment/Getty Images
What do you guys picture when you hear the phrase "dad bod"? Here's what I picture: A middle-aged guy, who's maybe a little gray, and a little soft around the middle, but who, you can tell, was probably kind of cut back in the day. Or who at least had some visible muscle tone. Sounds pretty accurate, right? But now this photo of Chris and Liam Hemsworth's dad has come along, and fans are completely losing their damn minds over it because he's hot AF. Can't say I'm surprised, seeing as Papa Hemsworth basically looks like The Rock!
But I'm getting ahead of myself here, so let's back up for a sec. Hemsworth hit up Instagram on May 17, where he proceeded to post a pic of himself with his parents and a couple of dogs on a mountaintop somewhere. "Climbed a mountain with the oldies this morning and came across a rattlesnake after telling my brother there were no rattlesnakes in this area!" he captioned the shot. "Ha!"
The caption's kind of lame, I know. But it doesn't really matter since I don't think anyone actually read it. Because Hemsworth's dad Craig is shirtless in the post, you guys. And he's got muscles popping everywhere.
Dayummmm!
For the record, I think Hemsworth's mom is looking super fit here, too. But it's dear old dad who basically broke the internet by redefining the phrase "dad bod" with his bulging biceps.
"Why wasn't your dad cast as Thor," one follower wrote. "No offense @chrishemsworth, but your dad is #jacked."
"Is that your dad?" added another. "OMG he's ripped! Body goals!"
"HOT DAD ALERT!!!," wrote a third.
And from a fourth: "Apple's don't fall far from the tree. How's them apples."
Seriously... how ARE those apples, Liam? And what on earth is in them that makes your entire family look this way?
If you scroll a little further down Hemsworth's Instagram feed, however, you'll find out something else about his dad — he's got hairy fingers!
Now I'm just wondering if Hemsworth inherited those babies, too! Well, whether he did or not, his girlfriend, Miley Cyrus, probably doesn't care one bit considering she's never been shy about rocking her natural body hair.
Speaking of which... how much fun do Hemsworth and Cyrus look like they have as a couple? Hemsworth recently pranked her in the car by pretending they were going to crash (it was funny, I swear!). And remember back in March when they threw a St. Patrick's Day party together? Not only did they trick out the house with green pillows and balloons, pots of gold doubloons, clover garlands, and a rainbow made out of multicolored flowers, but Liam totally got into the spirit of the day by rocking everything from a fuzzy green tie to a pair of lime-hued leggings topped with a matching pair of knee-high socks. As the luck of the Irish would have it, he posted a pic of his whole amazing get-up on Instagram, where it will hopefully live on forever and ever:
So extra, and I love it! But I'm gonna need an explanation for that T-Rex just outside the window!
"Happy St. Patrick's day Ireland!" he wrote in the caption. "Thanks for letting all of us celebrate it with u!! My grandma was Irish and I couldn't be prouder. Light it up!"
Now, check out Cyrus:
Not gonna lie, I'm mad jealous of her metallic slides and that dope clover-stamped onesie. And who knew green lipstick could look so gorgeous?
Also, I may or may not have played this clip like 20 times, just so I could hear Hemsworth giggle while he's shooting it. A picture of a hot leprechaun may be worth a thousand words, but the sound of this man's laughter is EVERYTHING.