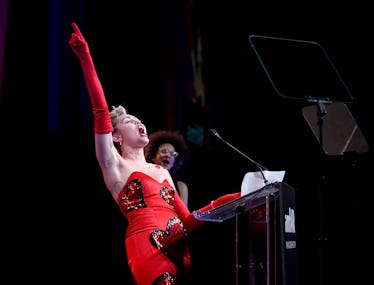 Celebrities Are Finally Embracing Their Body Hair & I'm Here For It
Larry Busacca/Getty Images Entertainment/Getty Images
Raise your hand if your mom presented you with a drugstore razor and can of shaving cream, on top of bombarding you with the sex talk and explaining what a period is during puberty. As a woman, there's a good chance you've either been taught or told to shave your legs at some point, but how many of you can honestly say you grew up knowing body hair is beautiful, and removing it is a personal choice, not a requirement? It amazes me that in 2018, women are still subjected to this stigma, but celebrities with body hair, who aren't shy about posting their stubble on social media, or attending a red carpet event baring hairy legs and wisps under their armpits, are setting an important example for women of all ages.
Even though there's still a decent chunk of society that still isn't exactly on board with flaunting female body hair, the percentage of women ditching their razors and not feeling obligated to shave on the regular has gone up. In 2017, Telegraph UK reported according to a study performed in 2016 by analysts at Mintel, between the years 2013 and 2016, the percentage of women shaving their underarms dropped from 95 to 77 percent, while the number of women shaving their legs also dropped from 92 to 85 percent.
Of course, there's nothing wrong with shaving, waxing, threading, sugaring, or however else you may choose to remove your body hair, if that makes you feel more comfortable in your own skin. I know myself, and, personally, I don't love the feeling of stubble on my legs or hair under my arms, and don't normally go more than a week without shaving if I can help it. But, there's also nothing wrong with women ditching their razors and embracing their body hair because, either way, it's all beautiful.
If you're considering saying buh-bye to razor nicks and spending an extra 15 minutes in the tub to shave here, there, and everywhere to, instead, embrace your body's natural anatomy, take a look at the following celebritie's public stances on the subject. Again, body hair is natural, and nothing to be ashamed of, and these a-list celebs are here to tell you firsthand.