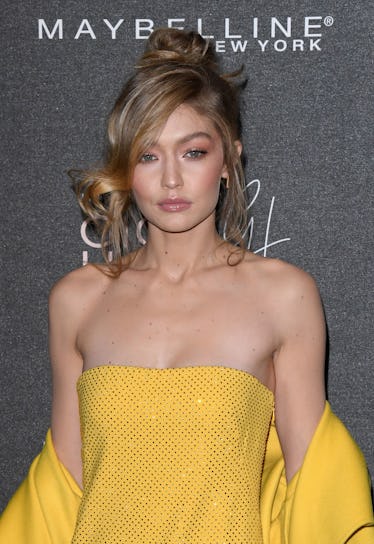 Gigi Hadid Showed Off Her Underarm Hair & Internet Trolls Are Having A Field Day
Stuart C. Wilson/Getty Images Entertainment/Getty Images
You would hope that in a time of raging wildfires and acrimonious political divide, people wouldn't bat an eye over something as trivial as body hair. But as demonstrated by the differing reactions the internet had about a recent video of Gigi Hadid's armpit hair, what a woman chooses to do with her natural body is still cause for an uproar. While hoards of people came out in defense of the model's personal choice to leave her hair unshaven, many still felt it was their place to shame the model for her decision. And it's important to note that many of the haters are women themselves.
Since 2014, Love Magazine has been rolling out an advent calendar of sorts, where the British publication debuts a new video clip every day from Dec. 1st-31st featuring a different model. From Kendall Jenner and Kate Upton to Chrissy Teigen and Slick Woods, the biggest models in the world have appeared as part of the project, which is known for its super sexy, playful interpretations of holiday sensuality.
Maybelline ambassador Gigi Hadid first scored a spot in the calendar in 2015, which she went on to reclaim in 2016. This morning, her spot in the 2017 iteration became official, with the release of her advent video clip in honor of today, Dec. 11. Rather than focusing on the empowering nature of he video — more on that below — many people took to social media to express their feelings about the fact that Hadid's armpits appear to be unshaven. Sigh.
Before I get into exactly what people were commenting on the video, it's important to note that the theme of this year's advent calendar is #StayStrong. According to Love, Katie Grand (the publication's founding editor-in-chief) came up with the idea after running into model Ashley Graham at New York City gym The Dogpound. "I bumped into Ashley Graham there and she mentioned LOVE Advent," said Grand (Graham has also appeared in the project since 2015). "I thought, wouldn't this be a great place to set most of it?"
Each clip features a model engaging in whatever exercise they're passionate about: Sara Sampaio, who did karate for eight years, kicks, throws punches, and splits a board in half; Doutzen Kroes jumps rope; Taylor Hill practices her gymnastics. The only non-athletic clip to drop thus far has been of Emily Ratajkowski, who writhes around in olive oil and eats pasta? I don't get it, either, but to each her own. The overall theme and message of the calendar seems to be about strong women being confident in themselves, which we should all be about.
In Hadid's portion, the 22-year-old executes what appears to be a series of kickboxing and boxing moves (I'm no expert, but I know the model regularly trains in the ring at NYC's Gotham Gym), wearing a red sports bra, black sweater, and compression leggings. At a few points, she lifts her arms in the air, exposing what appears to be unshaven armpits, or perhaps sweater fuzz. Who cares, right?
Wrong. A lot of people evidently care, despite the fact that what a woman decides to do (or not to) to her body hair is no one's business but her own.
Shortly after the clip was uploaded to social media, comments about Hadid's underarms began to roll in. One user on Instagram wrote, "I love this. But I'm just not sure on the armpit hair," while another chimed in with a decidedly more harsh, "Yucky. Shave those pits." And that was just the tip of the negativity iceberg.
However, it's important to note that for every insulting comment shaming Hadid for her body hair, there was another defending her and female body hair on the whole. "Body hair is natural. It's not exclusively for men and doesn't make a woman any less a woman. You can be feminine and dainty and pretty and also have body hair," wrote one Instagram user, while another chimed in, "Body hair is natural for both men and women. Not shaving doesn't mean not looking like a woman, since women have naturally body hair. Anyway, women should be free to do whatever they want with their body and need to be respected whatever their decision is."
See more reactions, both good and bad, below:
See what I mean about the female trolls? Now is the time when women need to stick together and support each other, not tear each other down over something as arbitrary as underarm fuzz. Say it with me now: You can shave your stubble and I can grow mine out, and neither of us are a threat to one another.
Body hair is a totally natural thing, so it really shouldn't be breaking news when a celebrity decides to leave theirs as-is. In the simple act of doing so, Hadid has helped to open a far-reaching dialogue that will hopefully help us progress to a place where female body hair is normalized. The only truly noteworthy aspect of this video? Hadid's right hook.