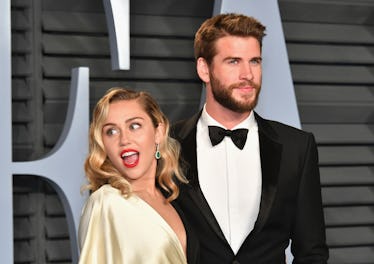 Miley Cyrus & Liam Hemsworth Held A St. Patrick's Day Party & It Looks So Epic
Dia Dipasupil/Getty Images Entertainment/Getty Images
It's official: Liam Hemsworth and Miley Cyrus are the most extra couple in existence. St. Patrick's Day was on March 17, and Hollywood's favorite love birds decided to celebrate this beloved holiday in the utmost style. Just check out these photos of Miley Cyrus and Liam Hemsworth St. Patrick's Day party. I'm getting serious FOMO.
St. Patrick's Day is a celebration of bright colors, loud noises, and out of the box costume ideas. To honor the very green holiday, Cyrus and Hemsworth did the actual most by throwing the most epic St. Paddy's Day shindig ever. So what all went into this glorious event? First there was a rainbow made entirely out of multicolored flowers, so many green balloons, and pots of gold a plenty. However, it wouldn't be a true Cyrus celebration if there weren't some fabulous outfits involved. The Bangerz singer sported a four-leaf clover onesie and top hat all while rocking some green lipstick.
Don't think she was the only one throwing looks though. Hemsworth proudly showed his Irish ancestry by wearing head-to-toe green, from his socks to an adorable little necktie.
I don't know about y'all, but I'm feeling lucky just looking at these photos. Let us all join as one and chant #couplegoals.
Just look at these photos and mourn with me that we couldn't attend.
It's hard to imagine a world where Liam Hemsworth and Miley Cyrus weren't together, but that was the case before 2010. The two met in 2009 while filming the Nicholas Sparks inspired film The Last Song, and went public with their relationship in 2010.
So fresh. So young. It feels like yesterday.
Since confirming their relationship, the couple endured immense media spotlight as a favorite Hollywood couple. That didn't stop the two from getting engaged in June 2012. However, in September 2013 both Hemsworth and Cyrus confirmed that they had ended their engagement and decided to part ways.
Their breakup in 2013 left all of us (especially me) completely devastated. However, in April 2016 the couple was spotted at West Hollywood restaurant Gracias Madre, marking their first public appearance since their engagement was called off. While there was no confirmation from the two at the time, that didn't stop fans from analyzing every social media post they made.
Then, on Oct. 11, 2017, the two finally made their red carpet debut as a couple for the first time in years. Cyrus and Hemsworth attended the Thor: Ragnarok premiere in order to celebrate older brother Chris Hemsworth's starring role. Thankfully, that wasn't the last time this couple graced a star-studded affair. Cyrus and Hemsworth also attended the Oscars after-party following the live awards show on March 4.
I don't know what y'all think, but Cyrus and Hemsworth are actual red carpet couple royalty.
While we may think this couple is a perfect match, all couples go through hardship at times. During a October 2017 interview with radio personality Howard Stern, Cyrus dished on the reason why she and Hemsworth broke up in 2013. The explanation is actually a whole lot more mature than you might initially think.
I had to. I don't like when relationships are two halves trying to make a whole. So I don't think I have that co-dependency. I think people that break up and get back together, that's awesome. You get time to be yourself. You get time to grow up. I think if you're growing up attached to another person, you never really get solid as your own being.
Word Miley. Do your thing girl.
Since rekindling their relationship in 2016, Cyrus and Hemsworth's regular spottings together prove that they're definitely in it for the long haul.
Best of luck to both of you lovebirds.