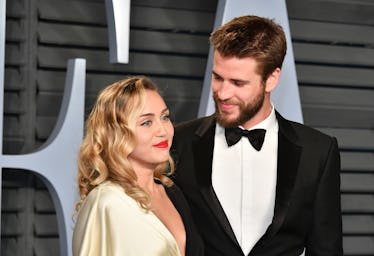 Miley Cyrus & Liam Hemsworth Look So In Love At The 'Vanity Fair' Oscars After Party
Dia Dipasupil/Getty Images Entertainment/Getty Images
Look, we're all on the Miley Cyrus train. Whatever this girl is up to, whatever trend she's setting, whatever rule she's breaking, we want in on it. And that definitely includes any cool celebrity hangouts she's going to with her fiancé, Liam Hemsworth. In fact, photos of Miley Cyrus and Liam Hemsworth hanging out at some Oscars after parties are a perfect example of why this girl and her energy are like a magnet. The two looked incredible, and are definitely the cool kids on the block once again.
On Sunday, Mar. 4, the 90th Academy Awards aired on television bringing fans epic acceptance speeches, shocking fashion choices, and amazing celebrity moments. While Cyrus didn't perform or present, she did get invited to some pretty cool parties. She and Hemsworth kicked off their event with Elton John, obviously, at the Elton John AIDS Foundation 90th Academy Awards Viewing Party. For those of us at home, a "viewing party" might sound like an event where you wear your pajamas and eat nacho cheese out of scoop chips, but not when Elton John is in charge.
For this shindig, Cyrus opted for a sparkly, neon pink mermaid dress and bubblegum pink lips. It looked like my 2006 prom dress on steroids, and I mean that in a good way. (I LOVED my prom dress.) Hemsworth went with a classic look in a fitted suit and bowtie.
Cyrus also casually showed off her sparkly engagement ring that somehow managed to stand out even amongst all of her glitter. At that party, the two chummed it up with true music OGs Lionel Richie, Ricky Martin, and of course, Sir Elton John.
Somehow, despite all the gorgeous ways she stands out, Cyrus fit right in.
Check it out, the usual trio: Hemsworth, John, and Cyrus.
Later in the night, when they were all "OK, been there, done that," Hemsworth and Cyrus switched up their venue and popped by Vanity Fair's Oscar Party at the Wallis Annenberg Center. This time, Cyrus swapped her silver sparkle and neon pink for a flowing gold and sexy black number. She kept her Hollywood glam hair, but added an oomph of red to her lips.
To be honest, there's no telling if Hemsworth switched up his suit because frankly, they all look the same to me. BUT STILL, you looked great, Liam.
While this look is still a far cry from her tongue/leotard days, Cyrus still looks youthful and badass as ever. Sure, we can't see her millions of tiny tattoos in this picture, but wait for it...
There they are!
No telling if she will put her ink on full display at her future wedding, (or if that wedding will actually happen at all), but I'm excited to see what she picks.
For now, the two seem to finally be enjoying one another's company and their actual engagement. In an old interview with Ellen DeGeneres, Cyrus admitted at one point she was "obsessed" with being alone. She said,
I want to be really clear and determined with everything I'm doing in my life right now … I am genuinely happy, finally with myself. I think it takes you separating yourself from someone else to really be happy with who you are.
Today, she seems to be totally happy with Liam. Cyrus' mom, Tish, told Mario Lopez,
She is not getting married. They are so freaking happy and living in Malibu. She's so happy and she's always like, 'I don't know why everybody wants us to get married.' It's so perfect.
Right. Sure. Sure. Sure. That's how we feel too. (Just kidding! PLEASE GET MARRIED!)
Check out the entire Gen Why series and other videos on Facebook and the Bustle app across Apple TV, Roku, and Amazon Fire TV.