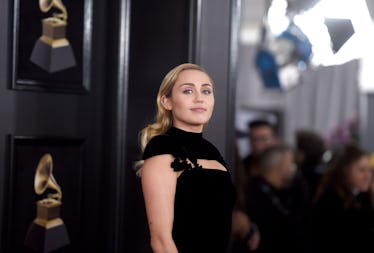 Miley Cyrus Just Channeled Her 2012 Oscars Look & I'm Living For It
Jamie McCarthy/Getty Images Entertainment/Getty Images
Miley Cyrus is no stranger to red carpet fashion, but it was only a few years ago that her outfit choices were often unpredictable and...interestingly unique. However, the former Disney Channel star has taken a more subtle approach to her fashion recently. Miley Cyrus' 2018 Oscars party look is a perfect example of the singer embracing her sophisticated side lately, and it didn't hurt that the outfit is also a bit of a throwback for her.
In Hollywood, you don't necessarily have to be on the Oscar ceremony's guest list to join in on the fun. Post-Academy Award parties are aplenty, and Cyrus confirmed her attendance for at least one of Tinseltown's bashes when she shared a sneak peek at her outfit on Twitter. Sporting a hairstyle in the close-up shot that is very reminiscent of Marilyn Monroe, Cyrus displayed a glittery silver top with a cutout hinting at a pink underlay of her dress.
The brief first look at her her party dress reminded her loyal fans of the look Cyrus sported in the aftermath of the 2012 Academy Awards. Then attending parties thrown by Elton John and Vanity Fair, Cyrus rocked a long-sleeved, silver Roberto Cavalli dress with 'Large Diamond Pavé Starburst Drop Earrings' in White-Gold by Sydney Evan and it appears to be a near mirror image of this year's post-Oscar look.
While her 2012 outfit lacked a bright burst of color, Cyrus did style her hair similarly, perhaps suggesting that we all fall back on our favorite style trends every now and then.
Fans also couldn't resist in comparing this year's party pics of Cyrus with fiancé Liam Hemsworth to their Oscars party appearance in 2012. Who knew those crazy kids would last this long, huh? Also, I appreciate that Hemsworth graduated from a regular tie to a bow tie over the course of six years.
Comparisons of the new look to her 2012 outfit died down once full body shots of Cyrus arriving at Elton John's party began appearing. Although Hemsworth partially blocked her in some photos (as all of our hunky Australian dates do, right?), Cyrus was actually draped in a half pink and half silver gown. The pink material of the dress almost seemed to create a star-shaped outline, adding an element of fun to the otherwise traditional and low-key look.
According to Hollywood Life, Cyrus' dress is a design from the collection Moschino, which Olympic figure skater Adam Rippon also represented on the Oscars red carpet. Moschino designer Jeremy Scott has previously worked with Cyrus for several years. The singer launched a line of jewelry that debuted during Scott's Spring 2015 runway show, so when she does glam up for special events, it looks like Scott is Cyrus' go-to designer.
Known as the Elton John AIDS Foundation Oscar viewing party, John's legendary event is celebrating its 25th year in 2018. Cyrus kicked off the year by performing a duet of the classic "Tiny Dancer" with John at the 60th Grammys in January, so I guess her Oscars party invite was a given. In that performance with John, Cyrus also dressed on the more subdued side, donning a beautiful magenta gown.
While Cyrus didn't have a seat at the Academy Awards this year, 2018 marks a full decade since her first appearance at the Oscars in 2008. That year, a 15-year-old Cyrus rocked a red Valentino dress that was perfect for a first-time attendee.
It looks like Cyrus loves to have the best of both worlds (I couldn't resist) when it comes to her wardrobe nowadays. Both muted and colorful looks clearly have a place on the Hollywood red carpet, so feel free to update those Pinterest boards of your dream Oscars look!