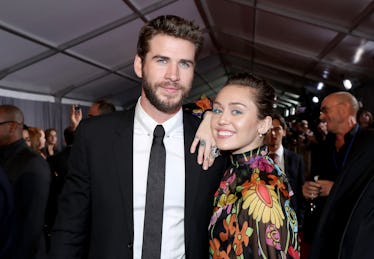 Chris Hemsworth Just Revealed If Liam Hemsworth & Miley Cyrus Are Actually Married
Rich Polk/Getty Images Entertainment/Getty Images
Now that Miley Cyrus and Liam Hemsworth are back together, the world feels a little bit better. It just makes more sense. The two have had an on-again, off-again, relationship, but ultimately came out on top and I think we should applaud that, because dating in Hollywood looks pretty rough, you guys. But even though they're back together, that doesn't mean that they've made things official on paper, and, according to a certain Hemsworth brother, Miley Cyrus and Liam Hemsworth are "not officially married" despite rumors that they two have exchanged vows. Which is sad, but that means there's still hope to get an official invite to the Cyrus-Hemsworth wedding in the future, so I'll at least hold on to that small hope.
While we're well aware of the fact that Miley Cyrus and Liam Hemsworth are actually adorable together, and there have been rumors flying just about everywhere that the two have tied the knot, it seems like it's all just lies, lies, lies, and we have a family member to confirm that reports are false. Oh, the family member? Nobody you'd know. Just a super average, regular dude that goes by the name of Chris Hemsworth. JUST KIDDING, we're talking about Thor here. You definitely know the guy (or at least are well-acquainted with his muscles):
But this story isn't about Thor (though we should all just take a moment to appreciate his beauty). This story is about Chris Hemsworth spitting out the truth when it comes to his brother Liam and Miley. In an interview with SiriusXM's Sway in the Morning on Tuesday, Jan. 16, Hemsworth shut down rumors once and for all. When asked if Miley was a part of the Hemsworth family, he said:
They're not officially married.
Boom. There you have it folks.
Of course, Hemsworth went on to speak highly about Cyrus, but has let him down in one hilarious way. He said,
She's expected to put on show and bang a few songs out, but she never does. I am insisting constantly. I'm like, 'When's the performance coming?' She's a lot of fun.
Duh, like we'd ever think that Miley Cyrus is a boring wet blanket? Please.
We definitely had reason to believe that the pair were married after photos surfaced of Cyrus and Hemsworth both wearing rings on their fingers a few months back, but nope. It looks like those are just promise rings, or whatever you kids call it these days.
Then the internet basically broke in November of 2017, when Cyrus posted a photo of herself getting ready to celebrate her birthday:
Fans saw this photo and immediately thought that Miley Cyrus was pregnant which, I'm sorry, but HOW?
But Miley shut down those rumors real quick, re-posting the photo with text that read, "Not pregnant just eating a sh*t ton of tofurkey" and called out the rumors, saying they were "rude":
How people concluded that she was pregnant in that photo is beyond me, but I digress.
So, while wedding bells may be in the future, Miley Cyrus has been pretty vocal about what she expects from her future, and — spoiler alert — it doesn't necessarily involve getting married just yet. In an interview with The Sun on Sunday newspaper back in September of 2017, she said:
I'm 24. I hope I get to live a little bit more. I have too much living to do [before I get married]. Three years ago, if you'd asked me if I'd be here, this happy with this man, I'd have been stunned. I'm just riding this out. In some relationships, you lose yourself by being with someone else. Actually, it made me find myself more ... I have no idea what the next three years will bring, but if it's possible to get even happier, I'll take it.
You know what, Miley? You do your thing. We've got you.