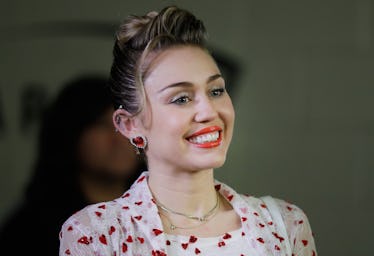 Miley Cyrus Responds To Pregnancy Rumors With One Epic Tweet
Isaac Brekken/Getty Images Entertainment/Getty Images
The big question for months with Miley Cyrus has been is she or isn't she officially married to Liam Hemsworth? It's like we can't keep track of the wedding rumors between these two. Are those wedding bands, or promise rings? And now, Cyrus is fueling yet another fire with her latest Instagram post. On the eve of her 25th birthday, she posted a picture of her in an oversized shirt with the hashtag "VeganTurkeyBaby" that caused some fans to question whether or not Cyrus is pregnant. Well, we now have our answer, because Miley Cyrus responding to pregnancy rumors with one epic tweet deserves a standing ovation.
We already have Thanksgiving and Cyrus' birthday on Nov. 23, so we wouldn't mind throwing in a third thing to gossip about at the Thanksgiving table. Alas, I guess we'll just have to wait for the power couple's baby news, as it's not coming in like a wrecking ball today.
The post originally sent Cyrus' fans into a Twitter debate of whether or not she looks pregnant. Some fans were skeptical, thinking, "Oh she's just being Miley." While others were convinced that a little Hannah Montana was on the way.
The Verdict: It's A Food Baby
Cyrus clapped back at the rumors that she was showing a baby bump, reassuring us it's just a "shit ton of tufurkey [sic]." Cyrus called out the pregnancy rumors as being "rude," and we totally get it. We're all probably pregnant with food babies on Thanksgiving. No one needs to judge. We know we're for sure hitting that stuffing three or four more times before dinner is over.
If only more celebrities responded so quickly to their pregnancy rumors like Cyrus. I'm looking at you, Kylie Jenner. Just stop toying with us all and give us the true lowdown. The back and forth is too much to handle. We're just glad we don't have to be moderators on the Miley Cyrus baby-gate of Thanksgiving on Twitter anymore.
Some Truly Believed Miley Cyrus Was Pregnant
There were some people who believed Cyrus was going to give us a little Miley gift for the holidays. Maybe it was wishful thinking, as we'd love to see what the Cyrus/Hemsworth baby would look like. We're sure that kid would have amazing talent in singing and acting.
Cyrus and Hemsworth aren't strangers to the pregnancy rumor mill. Since they got back together, there have been nonstop rumors that these two are planning on having a family. Back in March, Daily Mail reported that the couple was hoping to build a children's playground at their Malibu home.
Then in May, InTouch reported that the couple was having trouble conceiving. Cyrus had even told Billboard that she had given up smoking marijuana. She said, "I like to surround myself with people that make me want to get better, more evolved, open. And I was noticing, it's not the people that are stoned. I want to be super clear and sharp because I know exactly where I want to be."
Other Fans Felt All Along The Star Wasn't Pregnant
Cyrus' loyal fans knew that if Miley was pregnant she would let them know. They can't be fooled by no tofurkey baby. If Miley is pregnant, we're all pregnant on Thanksgiving.
We're applauding you Miley for calling out the "rude" behavior. A woman can wear a baggy shirt and eat as much tofurkey as she wants without fear of pregnancy rumors flying around. You deserve to go in for as many servings as you'd like. It's your birthday after all, and "We Can't Stop" loving you.