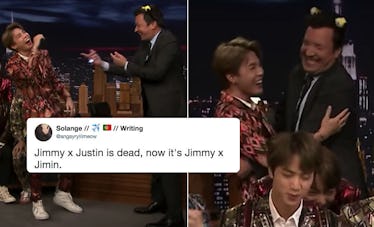 Jimmy Fallon Started A New Bromance With This BTS Member, So Step Aside Justin Timberlake
YouTube
The boys of BTS made their first appearance on The Tonight Show on Sept. 25, and there was literally an ARMY of fans in the audience, some of which, according to Jimmy Fallon, had camped out in front of 30 Rock for two days to try and get in for the show. Safe to say Fallon wasn't wrong when he called BTS "the biggest boy band on the planet." Fallon had all of the boys introduce themselves to the viewers, but the crowd wasn't the only one going wild when it was Jimin's turn to say hi. The tweets about Jimin from BTS and Jimmy Fallon show that Jimmy Fallon has a new bromance brewing. (Someone warn Justin Timberlake.)
From the very start, Jimin and Fallon had a special connection because they practically have the same name. But when BTS walked onto Fallon's stage and Jimin noticed that he was wearing a Chimmy headband (a piece of BTS merch inspired by Jimin), their bromance was instantly born. But Fallon's definitely not picking favorites!
When BTS band members RM, J-Hope, Suga, Jungkook, V, and Jin introduced themselves, there was enough cheering from the audience to give anyone an ego boost. But Fallon took things to the next level when he hyped up Jimin's introduction. "My man, here we go. Come on!" Fallon said as Jimin was about to say hi. He kept on asking for a drumroll (and remember, he's not picking favorites!), then Jimin stood up and said, "Hey Jimmy! I'm Jimin!" Then the crowd screamed, and Jimmy and Jimin hugged. But Fallon doesn't have a favorite band member. Check out the whole interview below:
If you don't know much about BTS, first of all, they release bop after bop and dance better than *NSYNC and the Backstreet Boys ever did combined (that pained me to say). Familiarize yourself with them because the K-Pop group is only going to get more popular. Jimin charmed the internet during the group's performance on America's Got Talent on Sept. 12, hence some of the craze around him. (He's basically the BTS heartthrob.) And considering Fallon was rocking a Chimmy headband through their whole interview, it's clear he's been charmed, too. So yeah, Fallon's not picking favorites!
Fans on Twitter couldn't get enough of the Jimmy/Chimmy moment.
Fallon didn't even deny that Jimin was his favorite once the show was over.
He tweeted, "Everyone has a different fav. It's almost obvious who's mine. Love, Jimin Fallon #BTSonFALLON."
Then there's this gem:
BTS was in New York to give a speech at the United Nations on Sept. 24. Fallon asked about the experience and RM, the group's leader, said, "I was so nervous. I was holding up the paper and you could see my hands shaking." RM said they were there to speak their message to the world. When asked what that message is, RM said, "It's mainly about speaking yourself, like, instead of letting other people speak for you 'cause to truly love ourselves it's important to firstly know who I am, and you know, where I'm from, and what my name is, what my voice is, kinda like that."
There were some moving moments during the interview, but Jimmy Fallon being Jimmy Fallon, he couldn't let the guys get away without doing a sketch with him. One of the most viral dance challenges on the internet right now is the BTS IDOL Challenge. It's basically fans of the group trying to recreate the choreography from BTS's "IDOL" music video.
Fallon created his own twist to the IDOL Challenge by having the BTS members do certain dance moves with Fortnite characters recreating the moves on the screen next to them.
Don't worry, Jimmy and Jimin dance together in the video before the whole group taught Fallon the actual "IDOL" choreography. Safe to say Jimmy Fallon is as obsessed with BTS (read: Jimin) as much as the ARMY is.