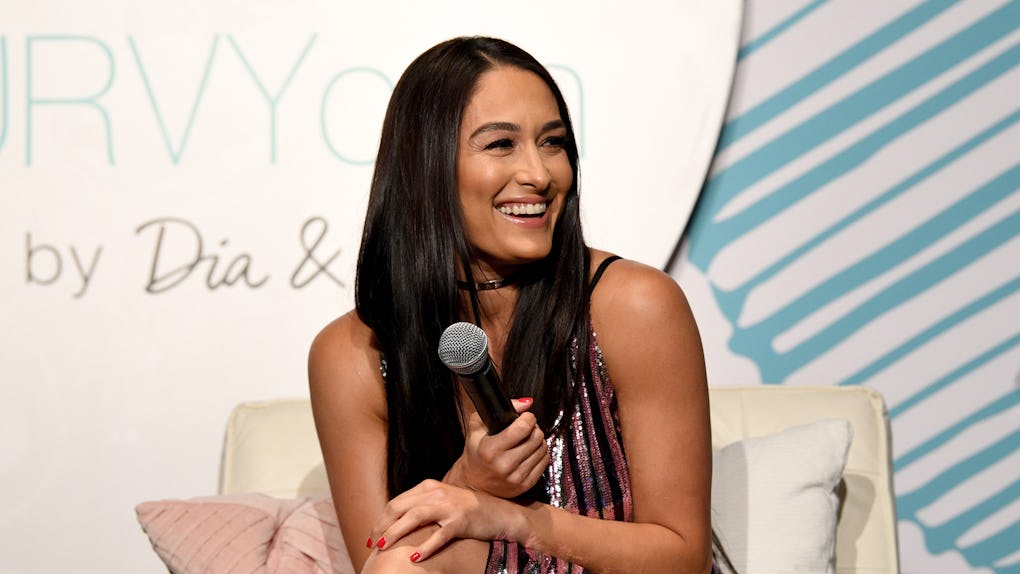 Slaven Vlasic/Getty Images Entertainment/Getty Images
The 'Total Divas' Season 8 Promo Shows Nikki Bella Moving On From John Cena In A Big Way
I am not OK, you guys. I. AM NOT. OK. Because it looks like Nikki Bella is moving on from John Cena for real. I mean, I just watched the Total Bellas Season 8 trailer, and the WWE Superstar is totally flirting with another guy in it! I know she's totally allowed to do that because she and Cena technically split for good, but I'm still not ready to watch either of them move on right in front of my face. I will be totally crushed. Like, earthquake, make the ground shake, crushed.
"I'm really going through stuff," Bella says at the beginning of the promo. "I'm about to have another meltdown." And, like, join the club, girl! I mean, I just seriously love her and Cena together and want them to ride off into the sunset together already. Sadly, it looks like it won't be happening, since there's a scene in the trailer where we see Bella flirting with some dude in the kitchen while decked out in a ponytail and bikini top, and then another guy on a balcony (the one that caused all that fan outrage back when we didn't know her and Cena were dunzo IRL). And then we get the following Paige — yup, she's back! — voiceover: "He looked in love with you, honestly."
Check it out:
Ugh, I'm totally going to have to get on board with Nikki Bella seeing other people this season, aren't I?
In case you forgot how we got here, here's a li'l recap for ya:
First, Cena asked Bella to marry him in April 2017 from the middle of the ring during an appearance at Wrestlemania 33:
So epic. Sadly, the engagement lasted only around a year, with the relationship coming to an end shortly after Bella finished up her nine-day bachelorette celebration in France. Yup, her bachelorette party lasted nine days. And it was in France. And I am so not jealous or anything.
The couple announced their split on April 15, 2018, when Bella shared their official statement on Instagram:
The whole thing was just so sad. But then a month or so later, rumors starting circulating that the couple had reconciled. It def seemed like things were headed in the right direction. I mean, Cena even reversed his decision about not wanting to have kids, telling Kathie Lee and Hoda on Today in late May: "I still love Nicole, I would love to marry Nicole, I still would love to have a family with Nicole. I love her. I want to be with her. I want to make her my wife. I want to be the father of her children. I just want us to work."
The whole relationship seemed to be on the path to an inevitable happy ending, even if that path was a slightly meandering one. But then Bella posted this video to her YouTube channel in July to let fans know that she and Cena were just friends:
And that brings us to Season 8 — which premieres Wednesday, Sept. 19, at 9 p.m. ET on E! — and to Nikki Bella apparently hanging out with other guys.
Sigh. At least we still have the Miz and Maryse.