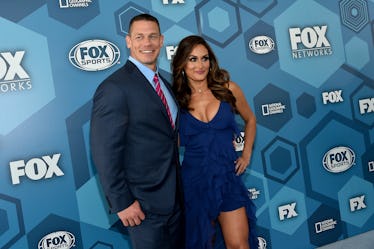 John Cena & Nikki Bella Have Split & Their Statement Is Heartbreaking
Ben Gabbe/Getty Images Entertainment/Getty Images
It's only April and this year has already seen its fair share of celebrity breakups. From Zayn Malik and Gigi Hadid to Channing Tatum and Jenna Dewan, Hollywood seems to have let our favorite couples slip through the cracks. And now John Cena and Nikki Bella have split, adding to the ever-growing list of celebs choosing to part ways.
The split comes just weeks before Bella and Cena were scheduled to be married. In a joint statement provided to Us Weekly on April 15, the couple asked for privacy during this difficult time:
While this decision was a difficult one, we continue to have a great deal of love and respect for one another. We ask that you respect our privacy during this time in our lives.
Bella and Cena had been dating since 2012 before finally getting engaged in April 2017. Cena, 40, proposed to Bella, 34, on live television during Wrestlemania 33. The two had known each other for years prior to becoming romantically involved, as they ran in the same circles and met through WWE.
The news of their split comes as a huge shock to many, especially since Bella and Cena have been seen out and about together in recent weeks. The two wrestlers were seen together and looking happy at Wrestlemania 34 on Sunday, April 8. Obviously, there was a lot going on behind the scenes.
The couple was scheduled to marry on May 5 in Mexico. Cena told Us Weekly in March 2018 that Bella had just finished a nine-day Bachelorette celebration in Paris.
Cena also spoke of the relationship's troubled waters, telling Us Weekly that love like theirs takes a lot of work:
Relationships are hard. Don't ever think that love is easy. Love is beautiful, but we've had to come to the realization after being together for five years that love is not easy. We work every day on us. We have our problems just like everybody else. Some of our problems are very public, some of them aren't. But we work every day on us. Anytime I get upset, I always just realize that I can't live without her and I love her and that's why I cave in on a lot of stuff.
Seems as though Cena knew how special their union was and didn't want to take it for granted, but perhaps paid a price for it. Ultimately, the two respected the heck out of each other:
It takes being able to mesh two lives. I would never ever want Nicole to be in a position where she says, 'I'm holding you back from doing this because I feel it's wrong for us.' And I would never say that to her. That's why she's super busy and sometimes we don't see each other for months at a time, but when we do see each other, it's our time together. I think, for now at least, that is certainly what's making this work.
Bella, on the other hand, hasn't said as much. And now that the breakup has been officially announced, it seems she's keeping mum about it. She posted their joint statement to her Instagram account:
Cena has also taken to social media to express his feelings about the breakup. On April 16, the wrestler tweeted the following:
And, on Instagram, he used a Walt Whitman quote to convey how he's handling this time in his life:
Shame that they couldn't work out whatever their issues were, especially since they'd invested so much time in the relationship and the wedding already. But as long as they're happy moving forward, that's all that matters!