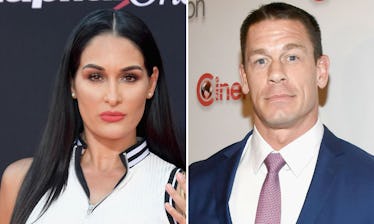 Nikki Bella Was Seen Flirting With A Guy That's Not John Cena, But It's Not What You Think
Matt Winkelmeyer/Getty Images; Ethan Miller/Getty Images
Nikki Bella isn't here for people starting rumors about her dating other men. The wrestler and reality star was recently seen "flirting" and "canoodling" with an unidentified man on Thursday, May 31, but TMZ now reports it was a stunt to prank the paparazzi that had been following the Total Bellas crew around while they filmed. The wrestler has responded to the reports, and Nikki Bella's response to dating rumors clears up any possible confusion. Bella and her former fiancé are apparently working on getting back together, so it makes sense that she'd want to shut down any false rumors about her love life in the meantime.
According to TMZ, Bella was seen "canoodling with a mystery man" on a balcony in Miami, but Bella has come out and said that "canoodling" claim is false. Was she flirting? Yes. Kissing? No. She reportedly was flirting with the 21-year-old bartender to tease the paparazzi. After having a few drinks, she reportedly thought it'd be funny to stand on the balcony and pretend to flirt with the bartender (who was apparently clued in on the whole thing). She staged it to make fun of the paparazzi, but it backfired a bit when it was reported that she was seen kissing him. Elite Daily reached out to Bella's team about the report, but did not hear back by the time of publication. Chalk this whole misunderstanding up to a funny drunk idea that didn't end up going according to plan.
But don't get it twisted. The only person Nikki Bella is romantically involved with is John Cena.
On May 31, Entertainment Tonight reported that Bella and Cena are committed to working things out. Bella called off their engagement in April after six years of dating, reportedly because she wanted kids and Cena was adamant about not having them. The different plans they had for their joint lives apparently caused a lot of tension between the couple and between Nikki and Brie Bella. All of that drama is playing out on the current season of Total Bellas.
A source told Entertainment Tonight, "Nikki Bella and John Cena are working on their relationship and taking it day by day. They appreciate all of their fans and their continued support." When they announced their split on April 15 in an exclusive statement to Us Weekly, they said,
While this decision was a difficult one, we continue to have a great deal of love and respect for one another. We ask that you respect our privacy during this time in our lives.
A lot of things have changed for the couple since then, however.
In an interview with the Today Show hosts Kathie Lee Gifford and Hoda Kotb, Cena said,
I had my heart broken out of nowhere … or for me it was out of nowhere. Anyone who has experienced that knows it comes with a series of bad feelings … I love her. I want to be with her. I want to make her my wife. I want to be the father of her children. I just want us to work.
Nikki Bella commented on Cena's desire to have kids in an exclusive interview with Elite Daily. At the time, she said, "It still hasn't sunken in. I think it's because I've still been in New York, so it's more of a numb feeling."
She continued,
I think I'm going to need to go home and be in my surroundings to fully digest everything, but I think John is such an incredible man. He's amazing. He's my best friend. And I truly have hope for us in the future, but I know only time will tell.
Bella and Cena are now actively working to repair their relationship with the intention of getting back together. It's not clear if they'll get married right away even if they do get back together officially. But this whole flirting with a model on a balcony in Miami thing, based on Bella's clapback, doesn't seem to mean anything whatsoever.