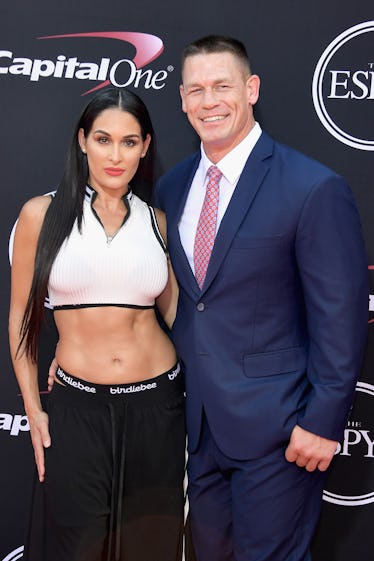 This Update On Nikki Bella & John Cena's Relationship Will Fill You With So Much Joy
Matt Winkelmeyer/Getty Images Entertainment/Getty Images
It's no secret that Nikki Bella and John Cena have been grappling with some relationship woes lately. After calling off their wedding in early April 2018 and then testing the relationship waters later in May, the two pro wrestlers seem like they can't make up their minds about where to take their love for each other next. And their dedicated fans, who've been following their every move, have been on one heck of a ride. Luckily for them, there's been an official update on Nikki Bella and John Cena's relationship. And it's a positive one!
According to Entertainment Tonight, a rep for Total Bells has given a brief, but happy update on the the couple:
Nikki Bella and John Cena are working on their relationship and taking it day by day. They appreciate all of their fans and their continued support.
Yes, yes, yes! This is such great news! I mean, Bella and Cena already kind of confirmed they were still together (they stepped out together on Saturday, May 19), but now there's official confirmation and it's super exciting!
Just to give you some context: Bella and Cena were scheduled to get married in Mexico on May 5. But on April 15, the couple officially called it quits with this joint statement provided exclusively to Us Weekly:
While this decision was a difficult one, we continue to have a great deal of love and respect for one another. We ask that you respect our privacy during this time in our lives.
Since then, Bella and Cena have mostly been doing their own thing. In a recent interview on the Today Show, Cena explained that he was heartbroken and wanted to work things out with Bella:
I had my heart broken out of nowhere … or for me it was out of nowhere. Anyone who has experienced that knows it comes with a series of bad feelings … I love her. I want to be with her. I want to make her my wife. I want to be the father of her children. I just want us to work.
Cena's genuine expression of heartbreak and willingness to change apparently moved Bella and now they're working things out.
A source close to the couple elaborated on the relationship for Us Weekly:
Nikki called off the wedding earlier this month so she could have more time to make a decision with what she wanted in life. Calling off the wedding was the right decision at the moment and their relationship only grew from it. It didn't mean that any love was lost, or that they lost any feelings for one another, but they both have realized that they love each other and want to be with one another.
Wow, it sounds like they made the right decision. And it's really great to hear that they're on the mend and their relationship is growing.
In recent days, E! — which airs the couple's reality show, Total Bellas — has been releasing video clips charting the breakdown of the relationship. On May 29, the network released a video clip showing Bella telling Cena that she can't marry him. Then, on May 30, fans got wind of a video clip in which Bella finally told her family that the wedding was a no-go. During that clip, Bella explained how she was feeling about the whole thing:
I feel like such a huge piece is just missing from me. It's just weird, first morning in six years not to talk to him, you know? ... Our life is one, that's what's so hard.
Tough stuff. Thankfully, things are working out for Bella and Cena, which is wonderful.