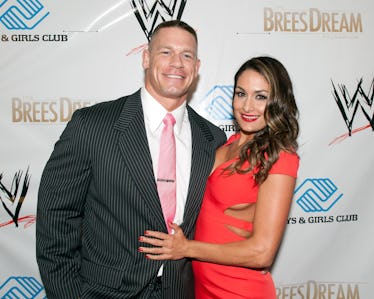 John Cena Just Opened Up About Wanting Kids, So Maybe Nikki Bella Is His Soulmate After All
Erika Goldring/Getty Images Entertainment/Getty Images
OK, OK, OK. Everyone get back on the John Cena and Nikki Bella train because it looks like it is getting ready to leave the station. (I don't know if that's the best analogy, but you get where I'm going with this.) It seems ever since Bella called things off with Cena, it's really put his life's priorities in order. The WWE wrestler just admitted kids might be in his future, leaving lots of fans going, "Wait a second, since when?" If you're wondering why John Cena changed his mind about having kids, the answer is that true love is real and change is possible! The 41-year-old has totally flip-flopped on his feelings towards children and seems like he might really be ready to take the next big step.
TMZ's cameras recently caught up with Cena and wasted no time getting into the nitty-gritty details of his on-again, off-again relationship with Bella. After nearly six years of dating, Cena and Bella waved the white flag just before their scheduled May wedding. Many people pointed to their opposing opinions on starting a family, thinking Cena's inability to commit to kids might be at the source of their issues. Still, Cena has made it more than clear he's in it to win it with Bella now and hopes they can sort things out. He reflected this sentiment to TMZ cameras on June 3 and said it might actually be time to become a father.
When TMZ asked him if he would like to have children, Cena responded, "Of course. I would love to be a Dad. And by the way, that's an about-face for me and I realize very much that I have been steadfast in saying that I don't want children. But I'm a little bit older, a little bit wiser." Cena added that the change of heart isn't so much for Bella as it is about his own maturity, adding,
At age 18, we say things different than at 25, 35. I would love it, only because I dedicated my life to my work and now I'm realizing that there is life, and life exists, and it is beautiful. And I think part of that is being a parent.
Cena also said "I don't know what I would do with my life" if his parents didn't support his career. For those reasons, he says he would be happy to support his child in whatever their dream is, too — including wrestling.
Cena's right when he says this new attitude is an "about-face." In 2016, he told Rolling Stone not having children was a "non-negotiable." He told the magazine,
I know I cannot handle raising a child... I don't have the time. And just because everyone else is happy with children doesn't mean that's how I have to live. I've been upfront about this. I just have things I need to get done. It's not negotiable.
As for his relationship with Bella today, Cena told TMZ they talk to each other all of the time and claimed they're "best friends."
Their official split came shortly after Bella returned from her nine-day bachelorette party in France, shocking wrestling and reality TV fans everywhere. They announced their breakup in a joint statement provided to US Weekly on April 15. It said:
While this decision was a difficult one, we continue to have a great deal of love and respect for one another. We ask that you respect our privacy during this time in our lives.
No telling if Cena's new admission will affect what happens between them next.
Check out the entire Gen Why series and other videos on Facebook and the Bustle app across Apple TV, Roku, and Amazon Fire TV.