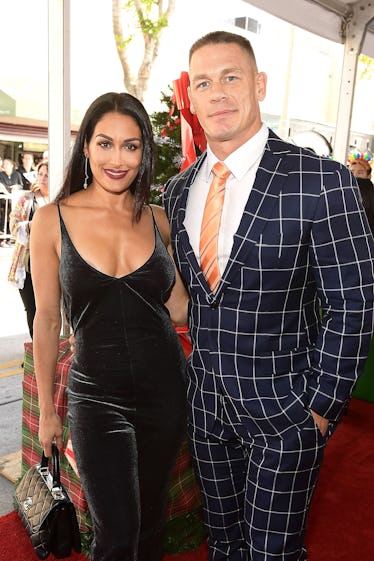 This Timeline Of John Cena & Nikki Bella's Relationship Will Make You So, So Sad
Matt Winkelmeyer/Getty Images Entertainment/Getty Images
Every now and then, a celebrity couple comes along and steals everyone's hearts. And that's exactly what John Cena and Nikki Bella did. Sadly, it seems their union wasn't meant to last; the two pro wrestlers officially announced their split on April 15, leaving wrestling fans in total disbelief. If you're not familiar with their relationship, this timeline of John Cena and Nikki Bella's relationship will bring you up to speed.
Both Cena and Bella are reportedly heartbroken over the split. There's been reports and speculation that it may have been caused by Cena's ambition and lack of desire to have children. Elite Daily reached out to both Cena's and Bella's reps for comment on those reports, but did not hear back by the time of publication.
All speculation aside, though, Bella and Cena shared something special. Here's how it all went down:
They started dating in 2012.
Back in 2012, Cena and Bella had already known each other for quite some time. But it wasn't until Cena got up the nerve to ask Bella to dinner that romantic feelings began to develop. In 2013, Bella revealed to Diva Dirt how she and Cena came to be a couple:
The first opening line was, 'Hey, do you want to go to dinner with me?' and I was kind of like, 'WHAT?! With me?!' When you're friends with John for so long … It just kind of started out like a dinner date and I have to admit we were friends for so many years but then when you make it romantic, I couldn't even say a word to him.
Pretty sweet, especially since they had that kind of friendly familiarity before taking it to the next level.
They met each other's families in 2013.
Things started to get serious in 2013 when Cena asked Bella to meet his family. The meeting was captured on camera for E!'s Total Divas:
Meeting the family proved to be a good move for Bella, as Cena asked her to move in with him soon after. But that next step came with some hiccups. Cena reportedly made Bella sign a 75-page contract before moving in.
Seems a bit odd, but perhaps he was just protecting his interests? Whatever the case, Bella reportedly signed the cohabitation agreement and the relationship progressed rather nicely from there.
Cena brought up marriage in 2016.
The Cena-Bella relationship progressed so nicely, in fact, that Cena changed his tune about marriage. For a long time, Cena was against getting married and having children, but his love for Bella opened up a new side to him.
Watch him tell Bella that he'd "love to marry" her:
But the bliss of this moment didn't last long. In April 2016, Cena told Rolling Stone that he simply wouldn't budge on matters of fatherhood:
I know I cannot handle raising a child. It's like with the dog. My biggest thing to Nicole about the dog was: Love dogs, but I can't contribute to taking care of one. I don't have the time. And just because everyone else is happy with children doesn't mean that's how I have to live. I've been upfront about this. I just have things I need to get done. It's not negotiable.
The pair got engaged in 2017.
Although a bit wishy-washy about marriage and children, Cena proposed to Bella in April 2017 during an appearance at Wrestlemania 33:
Fans went wild and Bella, of course, said yes.
They split in 2018.
The engagement between Bella and Cena lasted roughly a year, with the relationship coming to an end in April 2018. Cena and Bella were set to marry in May and Bella had just finished nine-day bachelorette celebration in France.
The couple officially announced their split in a joint statement provided to Us Weekly on April 15:
While this decision was a difficult one, we continue to have a great deal of love and respect for one another. We ask that you respect our privacy during this time in our lives.
A sad situation all around. Hopefully, they'll each find happiness down the line.