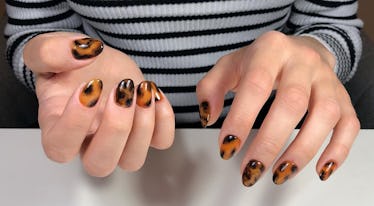 Tortoiseshell Nails Are The Latest Trend On Instagram & It's A Lot Easier To Do Than You Think
In a world where, for some reason, even the best gel manicure only lasts my destined-to-chip nails about a week, I've resigned from any attempts at gorgeous nails on my own two hands, and have turned instead to Instagram to stalk more fortunate nail artists and experts. As of late, my scrolling has made a new nail art pattern practically unavoidable: the tortoiseshell nail trend is seriously everywhere, and honestly? I'm not mad about it. Abstract but not sloppy, neutral but not understated, this trend reared its head during fall 2018 and has been steadily increasing in popularity throughout the winter. While I've chipped my own attempts to recreate the look at home almost instantly, I'm still a huge fan of the look, and my inability to nail it myself (pun intended) won't stop me from loving this trend. Plus, if unlike me, you have the tiniest bit of patience and the ability to go a few days without breaking a nail, you can totally master this look at home.
As someone who once stalked only makeup artists on the 'Gram, I've recently started following nail artist Katie Masters, aka @nailthoughts, and I find her content to be equally as stunning as makeup, but also somehow more soothing, if that makes sense. Masters uses Instagram Stories to show the process of gel removal, cuticle care, and finally, nail art design and application, and it's both fascinating and satisfying to see her perfect a set of tips.
Here's her take on tortoiseshell nails, which I'm obsessed with:
And here's a gilded version, also by @nailthoughts, just for good measure:
Cute, right? I'm really, really into it. Sometimes nail art can be a bit too over the top (Remember succulent nails? Nail chains? Need I go on?), but tortoiseshell feels so sophisticated. Something about taking a pattern normally reserved for J. Crew jewelry and shrinking it down to fingertip size makes even a mature pattern like tortoiseshell seem playful. In a way, it's almost like the perfect office-appropriate nail art pattern.
Exhibit A — @anna.berlin.nails's tortoise tips are neutral, but exciting nonetheless:
If the process itself interests you, peep this relaxing video by @cateye.nails, who specializes in hand-painted gel nails:
So, how to get the look on your own fingertips? Depending on how bright you want your base to be (it can vary from a sheer, more nude-y amber to a brighter, burnt orange) I recommend the Smith and Cult Nail Polish ($18, smithandcult.com) in shade "Tang Bang" for the more vibrant look, or the Essie Nail Polish ($9, essie.com) in shade "Sunny Daze" for something slightly more subdued. Bonus points for that hint of shimmer.
To create the tortoiseshell pattern, artfully splotch on something like the earthy brown OPI Nail Polish ($11, opi.com) in shade "That's What Friends Are Thor" while your base color is still wet. Applying over dry polish wont allow the two shades to mesh at the edges properly, and your results might look more cheetah-ish than tortoiseshell. Repeat with a black shade like the Sinful Colors Nail Polish ($2, target.com) in shade "Black on Black" to amp things up and give the brown a little depth, and if you're a glitzy gal, throw in a metallic like the côte Nail Polish ($18, coteshop.co) in shade "No. 96," too. Voilà!
BTW, if a full-on patterned nail is too over the top for you, I highly recommend this cute half-nail look, done by gel nail artist @nailbrew:
Or even saving the tortoiseshell pattern for just a few statement nails, like nail artist @raechelsnails did here:
Don't get me wrong, I have a lot of respect for nail artists who create over-the-top nail masterpieces, but the reason I like the tortoiseshell style so much is because it's both fun and wearable. I can absolutely see myself wearing nails like this to business events as well as to parties — of course, you can and should should wear whatever kind of nailpolish you like regardless of scenario, but for me personally, this feels like the ultimate happy medium of statement and subtlety. One day, when my nails are long and strong, I'll try this out for myself, and although it's unlikely that day will come soon, I'll keep my non-painted fingers crossed that by then, this trend is still in style.