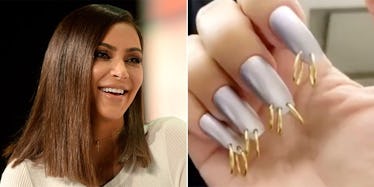 6 Things That Will Happen If You Pierce Your Nails Like Kim Kardashian
REX/Shutterstock/Instsgram
Can we take a sweet friggin' second and talk about what Kim Kardashian did to her nails?
If you aren't following Kim K's Snapchat, then you're either not on Snapchat or are on Snapchat but are terrible at it.
Seriously, there are few things in this life that give me more joy than watching Kim walk around her houses while explaining the free stuff she got from companies that dress Pippa Middleton and the Obama sisters.
THIS IS THE SAUCY GOLD YOU'RE MISSING BY NOT FOLLOWING KIM ON SNAPCHAT.
Yeah. Pierced nails. She turned her fingers into earlobes. It's not even that she's a game changer as much as she's a game inventor -- not unlike Jesus.
I decided to take a page out of Kim K's insane nail book and try to rock some pierced nails. I immediately found out two things.
1) She didn't actually pierce her real nails. I am a man, and I didn't know you could just, like, buy nails like that. I thought she had a technician and gold ring provider on retainer who crafted these things, but more likely it was made by some mass producer.
So I set out to build my own pierced-fingernail ring art because there is no way I could get petty cash out of Elite Daily to fund this article, and there was no way I was going to spend my own money.
Also, I still have no idea where I could buy nails like this. I'm a guy who recently learned how to pronounce Givenchy. I don't know where women get their hand chandeliers made.
So, this was the best I could come up with, and it took me like an hour to do it.
Honestly, if you're squinting and look real quickly and the computer screen isn't on, you're hardly able to tell the difference between the two.
2) The second thing I learned when I did this was SHIT GETS HARD WHEN YOU HAVE A JARED JEWELRY STORE HANGING OFF THE END OF YOUR NAILS.
Literally everything became a struggle...
1) Pouring milk
I couldn't get my hand through the handle. It embarrassed me during the early-morning coffee rush.
2) Typing
I have chunky Vienna sausage fingers that tend to hit three keys at a time as it is. This didn't help.
I accidentally texted my mom a racial epithet about Jews while responding to a question about my healthcare provider. Why auto-correct didn't throw me a friggin' bone the one time I really needed it I will never know.
3) Face rubbing
People weren't up for my world famous mid-day face rubs.
4) Camouflaugin'
This is more of a good thing than a bad thing, BUT I blended into the snack shelf at work. I'm still working on how this is a plus but I think it does give me like a tiny bit of camouflage during the afternoon snack rush.
5) Toilet paper
YOU. WILL. NOT. BE. ABLE. TO. WIPE. I. HAD. TO. HAVE. AN. INTERN. DO. IT. FOR. ME. She. Quit.
Not completely unrelated: If. You. Are. Looking. For. An. Internship. We. Have. An. Opening.
6) Banana
This really fucked up my banana eating experience.
Final ruling: Pierced nails are a bad idea unless you're being hunted in a warehouse that just makes metal snack shelves.
Citations: Can We Discuss Kim Kardashians Pierced Nails (Elle)