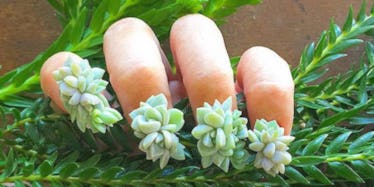 Women Are Gluing Succulents To Their Nails In Latest Insane Manicure Trend
Instagram
I have a confession to make.
Like many of my fellow ladies, I have an extreme obsession with succulents.
I'm basically one of those crazy, old cat ladies, except instead of collecting a bajillion kittens, I just hoard a shit ton of succulents.
In fact, I have so many of these damn things in my apartment, every single shelf is overflowing. I think my strange plant obsession is starting to become a problem.
Then again, you can't really blame me for being overly fond of these lil' fellas.
Because let's be real: These precious desert plants are cute AF and instantly transform your space into a dazzling desert oasis.
Plus, the best part about a succulent is, it's almost impossible to kill it, which is great for me because it's basically the only living thing I can manage to keep alive.
If you also happen to share my love for succulents, you'll be glad to know there's a new succulent trend that will let you embrace your green thumb... literally.
Allow me to introduce you to succulent nails.
This botanical beauty trend involves gluing succulents straight onto your nails. And trust me, you won't be able to stop staring at these things.
This might not be the most practical mani out there. But hey, wearing an insane 3D succulent garden on your nails looks pretty fucking badass.
If you like the idea of sprucing up your nails with some striking succulents, but aren't really down to mutilate a desert plant for the sake of a mani, don't worry.
You can opt for a cruelty-free manicure that's a little more subtle by simply adding a still-life design of your beloved succulents.
Or, you can add a pop of color to your polish with a striking, succulent-inspired pattern.
If that's not enough to satisfy your desert plant desires, you can transform your tips into an eye-catching cactus.
We've seen ladies rocking several renditions of the cactus mani that range from gorgeous cactus gardens...
And prickly, potted prints...
To repeating cactus patterns...
Magnificent desert manicures...
Striking nail art that mixes stripes with cactus spikes...
...and cute AF cartoon cacti that are guaranteed to give you all the feels.
So yeah, you should have no problem finding a plant-inspired polish that will make your nails look extra sharp.
Citations: Succulent Beauty Trend Takes Over Instagram (Teen Vogue)