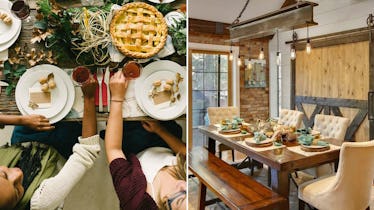 The Top Places In The U.S. To Travel To For Thanksgiving This Year Have Been Revealed
What are you thankful for this year? Well, there are your friends and family who you love so much. Then, you may say your passport or the planes that took you around the world. Let's not forget to show that bowl of mashed potatoes some extra appreciation, OK? Yes, everything is as sweet as pumpkin pie right now — but you're always looking for ways to make it even better. Lucky for you, the top places to spend Thanksgiving in the U.S. have been revealed, all thanks to Airbnb. These destinations will totally upgrade your turkey dinner and give you another reason to travel, too.
Imagine the dreamiest meal you've ever had: It was a bowl of pasta that had been perfectly tossed, or a salad with pomegranate seeds and feta cheese that was delicately placed, and then topped with the richest olive oil. Maybe you were somewhere tropical, where they served slices of pineapple and brightly-colored flowers on the side of every dish. (Are you getting hungry just thinking about it? Girl, same.)
Your first thought when they placed the food in front of you was, "Oh my goodness. I have to get a picture of this." You filled up your camera roll with pictures of the plate from every angle before putting a single bite into your mouth. To be honest, you don't have any regrets about it, but now you're looking back on that meal and wondering if you can recreate that experience somehow.
Could you remember to put the fresh basil on the antipasto tray, or the ideal scoop of vanilla ice cream next to that slice of pie? As long as you're in a dreamy kitchen, anything is possible — including that elaborate turkey dinner that's right around the corner. According to Airbnb, there are 10 destinations in the U.S. that should be on the top of your destination list for Thanksgiving. Mashed potatoes have never looked so good.
What are the top destinations to spend Thanksgiving in the U.S.?
The top destinations to spend Thanksgiving in the U.S. may make you re-evaluate your bucket list. Not to mention, the places to stay in these spots will make you want to book your plane tickets for the holidays ASAP. (Yes, it's going to be worth dealing with the airport lines. That's a bold statement, I know.)
According to Airbnb, these destinations include: Miramar Beach, Florida; Sunny Isles Beach, Florida; Key West, Florida; Tampa, Florida; Galveston, Texas; Hot Springs, Arkansas; Madison, Wisconsin; Scranton, Pennsylvania; Tacoma, Washington; and Williams, Arizona. Does at least one of these places sound familiar? Good! Let's keep going then.
They're considered to be the top destinations for Turkey Day, based on a recent data study. The company studied the booking numbers across U.S. cities for Thanksgiving 2018 and compared them to last year's numbers for the same destinations and time period. Each accommodation needed to have at least 100 arrivals in order to make the cut.
The results revealed that almost 475,000 people stayed in an Airbnb home on Thanksgiving of 2017 — choosing to snuggle up with their family and watch football, and chase their siblings to seconds in somewhere other than their hometown. Long story short: You're next, and seemingly won't be disappointed.
Why should you travel to one of these places for Thanksgiving?
Some of us, no matter how much we love traveling, would never choose to catch a flight around the holidays. This time of the year is infamously known for being expensive and exhausting. Knowing that a cozy weekend with your family and friends is on the other side, though, may change your perspective on that. I mean, sitting around a perfectly spread out table with your love ones, and then adding some wanderlust in there, too? Sign me up.
These destinations have mountains or beaches that are waiting for you to explore. They also have aesthetically-pleasing kitchens and cozy couches that are asking for Thanksgiving Day meal prep. Let's be honest: You could use the extra counter space for putting together that stuffing, and you've complained a lot about the lack of seating space. Problems, solved.
What dreamy kitchens can you rent on Airbnb in these destinations?
So, what accommodations in these destinations should you rent for this turkey season? Well, according to Airbnb, there are a few locations that should be on your radar — purely because they have the best kitchens and have become popular in the last year.
In Miramar Beach, Florida, you can rent this spacious beach-inspired house that comfortably fits 20 adults. The living room has plenty of space for socializing or snacking on appetizers, and almost every bedroom has a view of the water — which is a sweet bonus, even if it's too chilly to take a dip.
Up next, let's check out Williams, Arizona. With hiking trails nearby and the beauty of the landscape just outside your door, this farmhouse is perfect for a freshly-made meal that's shared with the ones you love. The whole house fits 14 people, and has cute details like Edison light bulbs and rustic signs. It doesn't get much cozier than this.
Airbnb also suggests that you check out Hot Springs, Arkansas for a lakefront home that'll feel like luxury living. After eating your yummy turkey dinner, you're bound to be a little bit tired — and this is the place to relax. Watch some movies with your family, or take in the views while aimlessly scrolling through social media. It's the getaway you need RN.
What else should you consider for the dreamiest turkey dinner?
When it comes to that dreamy turkey dinner, the ideal kitchen is just the beginning. Think back to that perfect meal you had on vacation or in a cute spot in your hometown one more time: What made it so special?
The flavors were amazing, but arguably just as important, it looked incredible on your feed. There was a rustic wooden table or twinkly lights nearby that created a nice glow. The ambiance combined with the presentation made this dinner one for the books.
So, after you rent your dreamy kitchen in one of the best destinations for a turkey dinner, consider the Instagram-worthy qualities you can bring to the table. Pick up some candles, or add an extra garnish to your side dishes. Even decorating your pie with a cute and festive leaf is a good idea. Just like that, you're having a meal with your family that you won't ever forget — in a destination that's pretty sweet, too.