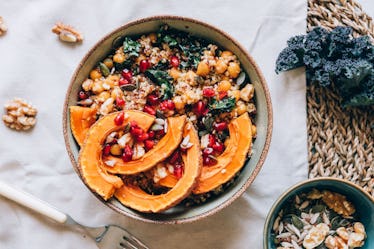 The Best Places To Eat If You're A Vegetarian Have Been Revealed By OpenTable & YUM
Romaine calm. Seriously, take a deep breath before you proceed, because there's loads of kale (and vegetable puns) in your future. OK, let's continue, before I get too artichoked up with this news! Up until now, you've been on the search for vegetarian meals. From your experience, not every restaurant has the best menu or options available. Some try and master the art of kale Caesar salad or tofu scramble, and you give them a pat on the back and think to yourself, "Maybe next time." Well, OpenTable just revealed the best places to eat if you're a vegetarian, and they're game-changers.
Let's be honest: You get super excited about elaborate quinoa bowls topped with pomegranate seeds and slices of sweet potato on the side (something truly colorful and Instagram-worthy to the core). You want to spend your lunch breaks making smoothies and scrolling through Pinterest for new recipes. You've gotten seriously good at cooking for yourself, and can whip up a tasty dish in the kitchen at any time.
But, your experience in restaurants has been a bit different. There aren't a ton of options, or they overcook the beans on the reg. Ugh, what gives? Thanks to OpenTable, the world's top provider of online restaurant reservations, you don't have to stress anymore. Seek out some of the best places to eat for all-things vegetarian, and then lettuce celebrate, because you're going to be in love from your head to your tomatoes.
What are the best places to eat if you're a vegetarian in the U.S., according to OpenTable?
According to OpenTable, there are some spots around the U.S. that are meant for vegetarians. These restaurants and eateries know how to cook your favorite dishes, and put their own twists on the regular cuisine. (Are you getting hungry just thinking about it? Girl, same.)
The list consists of 50 places to eat, from the East Coast to the West Coast, and features all sorts of dining experiences. For example, there are American-style options, Indian dishes, and Mediterranean cuisine. Whatever you're in the mood for, there is something on this list for you!
So, what should you add to your vegetarian bucket list? Well, Nix in New York City's charming Greenwich Village is a must-try. On the other side of the country, Cafe Gratitude, in the Little Italy area of San Diego, is raved about for their organic (and seriously Insta-worthy) menu. Last but not least, an eatery in Washington, D.C. called Zaytinya is known for giving every foodie an impeccable taste of Mediterranean flavors. (An amazing meal is worth hopping on a plane or train, right? Right.)
What are the best states in the U.S. for vegetarian meals and restaurants?
Out of every restaurant and eatery on this list, a few locations stood out. These are the best states in the U.S. for vegetarians, simply because they appeared in the results more often than the others.
First things first: New York was recognized as the number one state for veggie lovers with a whopping 11 restaurants on the list. This may come to no surprise, considering New York City is known for its wide variety of food options — most of which are open past midnight.
California was listed nine times, with places to eat ranging from San Diego to San Francisco. (So, when you and your best friends do a road trip along the Pacific Coast Highway, you can guarantee there will be good food no matter where you go.) And Washington, D.C. made the cut with seven eateries that will totally guac your world.
Some other honorable mentions include: Florida, Georgia, and Oregon. Speaking from my personal experience, the city of Portland is very conscious about their food. From coffee shops, to sushi restaurants, and every doughnut in between, you are likely going to be asked about your preferences, and then served something with the best locally-sourced and organic ingredients. Now that's food that's worth traveling for!
How did OpenTable come up with these results?
The list of best places to eat in the U.S. if you're a vegetarian wasn't just designed on a whim. No, over 12 million verified OpenTable reviews were taken into consideration between Sept. 2017 and Aug. 2018.
All in all, over 28,000 restaurants across the country were considered — and if you ask me, that's some steep competition! All of the eateries that had a minimum "overall" score and number of qualifying reviews were in the running. The labels "vegetarian" and "vegan" had to be factored in as well, and then the list was generated. After revealing the top places to eat, vegetarians and even their veggie-loving friends who may dine on some meat or fish from time to time know exactly where to go.
How can someone who isn't a vegetarian start enjoying vegetarian meals?
Truth be told, you don't need to be a vegetarian or a vegan to enjoy these eateries. And there are ways to start dining on these delicacies before you even hop on that plane.
Find a friend or a trustworthy blogger who maybe makes their own recipes or has been a vegetarian for a while. Ask them about the different ingredients that can go into a meal, and how to build them in the right way. At first you may not know how to add protein or what to mix with tofu. Even scrolling through Pinterest and finding some recipes to create in your kitchen at home can be a great place to start. Then, begin venturing out in the world and trying new dishes.
Order something vegetarian off the menu, and get your leek on. At the end of the day, you may not like what you try — and that's OK. Simply declare, "I yam what I yam," and know that you gave it your best shot. Are you so over the vegetable puns now? Well, orange you glad that I'm done now.