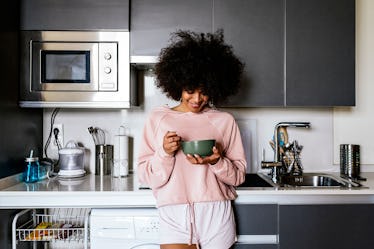 This Diet Boosts Positivity, According To Science, So It's Time To Go Grocery Shopping
Whenever you read about trendy diets on the internet, the information generally tends to focus heavily on weight loss, and I don't know about you, but I am beyond tired of that chatter. There's so much more that goes into feeling your best than the number on the scale, like waking up on the right side of the bed, and eating foods that fuel your soul. So rather than eating only for your physique, how about shifting the conversation toward eating for your attitude? For example, new research says plant-based and vegan foods make you feel good from the inside out, so instead of scanning food labels for fat percentages and sugar additives, wouldn't you rather swap the fake stuff for the super tasty, authentically good-for-you foods?
Once upon a time, those following plant-based and vegan diets were in the minority, but as more research surfaces about the many health benefits of going meatless and dairy-free, this way of eating is quickly becoming pretty common. In fact, according to a study performed by the magazine Vegetarian Times, roughly seven million Americans follow a vegetarian diet, while approximately one million are vegan, meaning they don't consume any animal products.
There are countless benefits to making the transition from carnivore to herbivore, such as a lowered risk of disease, clearer skin, improved sleep quality, and higher energy levels. But, IMO, the benefits for your well-being are what really make the switch worthwhile.
In a recent paper, which has been published in the research journal BMJ Open Diabetes Research & Care, study authors reviewed several different clinical trials between 1999 and 2007, all of which compared the benefits of plant-based diets to other ways of eating. As per EurekAlert! Science News, eight of the studies explored the effects of a vegan diet, while six studies required that participants be educated on and given information about the benefits of a plant-based diet. The results showed that those who committed to a plant-based or vegan diet had a better quality of life overall, including "improved psychological wellbeing," according to EurekAlert! Science News.
So what is it about vegan foods that boost your 'tude? Frances Largeman-Roth, RDN, a nutrition and wellness expert and author of the book Eating in Color, attributes the positivity to the fact that a lot of fruits and vegetables are packed with phytonutrients, which, she says, "do everything from boosting brain and heart health, to helping your skin look great, so there are plenty of reasons why a plant-focused diet might boost your mood."
Interested in reaping the benefits? Here are a few key grocery items to add to your list ASAP.