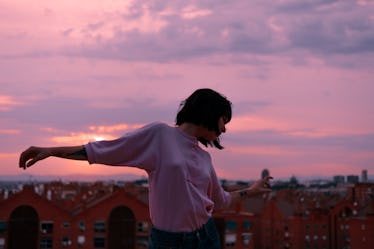 The Soundtrack To Your Summer Fling, Based On Your Zodiac Sign
Ah, summer loving. Far from the soundtrack to the musical Grease, the soundtrack to your summer fling will make you want to cut your jeans into cutoffs, let your hair down, and have fun in the sun with some total hotties. There are many factors that go into finding the perfect summer song for your perfect summer fling. You want a solid beat, you want inspiring lyrics you can sing in the shower, and of course, you want it to fit with your astrological sign. It is 2019 after all, and astrology-themed everything is basically a law.
After months of braving snow storms to go on dates and wearing three sweaters even when you're going "out" to the "club," dating in the summer means tan lines and drinks with tiny umbrellas in them. Whether you love to play amazing tunes as you get ready for a big date or you're in the market for a summer love song — creating a solid summer playlist can be the first step to celebrate the sunny season and all its flirty fun.
So, grab your headphones and turn up the volume. Here is the soundtrack to your summer fling, based on your zodiac sign.