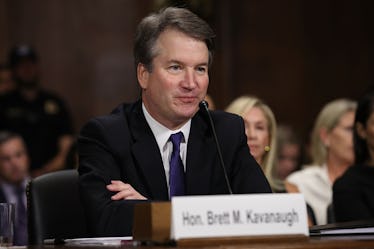 This Is How The Senate Voted On Brett Kavanaugh's Supreme Court Confirmation
Win McNamee/Getty Images News/Getty Images
Once upon a time, people would see what's on the news and be able to go about their day in peace. Well, fast forward to 2018 and it's obvious that's not the case any longer. Over the past few weeks, the world has been eagerly awaiting to see what the future holds for a particular Supreme Court nominee, and the Senate's confirmation vote on Brett Kavanaugh has finally arrived. The vote concluded with 50 Yeas and 48 Nays, confirming Kavanaugh's set on the Supreme Court.
The vote came just before 4 p.m. ET in Washington D.C. on Saturday, Oct. 6. The highly anticipated vote was able to confirm Kavanaugh thanks to Yea votes from the previously undecided votes of Sen. Susan Collins (R-Maine) and Sen. Joe Manchin (D-West Virginia). There were also interruptions from protesters, with screams of, "Shame, shame, shame!" One protester even yelled, "I do not consent, where's my representation?"
Leading up to the confirmation vote, I think it's safe to say that no one expected Kavanaugh's nomination to lead to such a revolution. In June, Supreme Court Justice Anthony Kennedy announced that he would be stepping down from his position effective end of July, and not soon after, Donald Trump selected Kavanaugh as his pick to fill his seat. Prior to his nomination, Kavanaugh served as a judge on the United States Court of Appeals for the District of Columbia Circuit Judge. Oh, what a simpler time.
In the beginning, Trump's nomination of Kavanaugh was controversial for a new reasons. For one, Senate members didn't want to conduct a confirmation hearing around the 2018 November midterm elections, especially since in 2016, Republicans refused to grant a confirmation hearing to Judge Merrick Garland, whom then-President Barack Obama nominated to replace the late Supreme Court Justice Antonin Scalia. Plus, Kavanaugh's conservative beliefs differed noticeably from Kennedy's usually moderate opinions, which sparked a lot of concerns among groups of people.
It's hard to believe that Kavanaugh was nominated just a few months ago and how much has happened since. At first, it appeared that Kavanaugh's confirmation would go over among the Senate Judiciary Committee without a hitch, but in September, things took a serious turn. On Sept. 16, Christine Blasey Ford came forward to accuse Kavanaugh of allegedly sexually assaulting her during a party back in high school. Kavanaugh denied the allegations, saying they were "completely false." Elite Daily reached out to Kavanaugh's team for comment but did not hear back. Then, a week later, two other women, Deborah Ramirez and Julie Swetnick, came forward to also accuse Kavanaugh of alleged sexual misconduct. Kavanaugh denied these allegations as well. Elite Daily reached out to Kavanaugh's team for comment on both allegations but did not hear back.
In response to the accusations from Ramirez, Kavanaugh released a statement through the White House denying the accusations. He said,
This alleged event from 35 years ago did not happen. The people who knew me then know that this did not happen, and have said so. This is a smear, plain and simple. I look forward to testifying on Thursday about the truth, and defending my good name – and the reputation for character and integrity I have spent a lifetime building – against these last-minute allegations.
The back-to-back accusations against Kavanaugh sparked headlines across the nation. On Thursday, Sept. 27, Ford appeared before the Senate Judiciary Committee to give her testimony against Kavanaugh, and it was a moment that Americans will never forget. During the hearing, both Ford and Kavanaugh relayed their sides of the story, and since, the fate of Kavanaugh's confirmation vote hung in the balance.
On Sept. 28, the Senate Judiciary Committee voted to move the vote to the Senate. It went through, with Sen. Jeff Flake using his swing vote in favor of the move — on the condition that the floor vote would be delayed one week and a FBI investigation would be opened to further examine the allegations made by Dr. Ford. Such conditions were granted. The report of the FBI investigation was made available to senators on Thursday, Oct. 4, and a procedural vote happened in the Senate on Oct. 5.
It's been a wild ride everyone, but it looks like the decision everyone has been waiting for has officially been made.