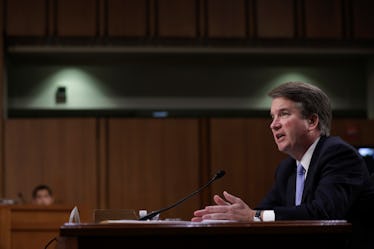 A Second Woman Has Come Forward To Accuse Brett Kavanaugh Of Sexual Misconduct
Drew Angerer/Getty Images News/Getty Images
The week of Sept. 17, Dr. Christine Blasey Ford made headlines when she came forward and claimed publicly that Brett Kavanaugh allegedly sexually assaulted her during a high school party in the early 1980s, which he has denied. Representatives of Kavanaugh did not respond to Elite Daily's request for comment. Since, the public has been wondering how these allegations will impact the Supreme Court hopeful's confirmation vote, but it looks like this story is only getting more complicated by the day. Why? Well, in a recent New Yorker article, Deborah Ramirez accused Brett Kavanaugh of sexual misconduct during their time as undergraduates together at Yale University in the early 1980s, which Kavanaugh has denied. Elite Daily reached out to the White House for further comment about Ramirez's allegation against Kavanaugh, but did not hear back in time for publication.
On Sunday, Sept. 23, The New Yorker released an article detailing the claims of Deborah Ramirez, a former Yale classmate of Kavanaugh's who has accused him of attempted sexual assault during a college party years ago. According to The New Yorker, Ramirez was hesitant to speak about the alleged encounter with Kavanaugh at first. However, after a few days, Ramirez eventually decided to share her recollections, and told the publication that Kavanaugh allegedly "exposed himself" while drunk at the college party, "thrust his penis in her face, and caused her to touch it without her consent" while trying to push him away, per the New Yorker. In response to these new allegations, Kavanaugh released a statement through the White House dismissing the claims, and denying the incident ever happened. The statement, as shared with USA Today, read,
This alleged event from 35 years ago did not happen. The people who knew me then know that this did not happen, and have said so. This is a smear, plain and simple. I look forward to testifying on Thursday about the truth, and defending my good name – and the reputation for character and integrity I have spent a lifetime building – against these last-minute allegations.
Since Ramirez's accusation went public, everyone has been wondering what this will mean for Kavanaugh's confirmation hearing, which has been pushed to Thursday, Sept. 27 after Ford came forward with her own accusations. While some are pushing for the Kavanaugh vote to move forward, other senators are asking for the decision to be delayed even further.
On Sunday, Sept. 16, Ford revealed herself as the anonymous individual who accused Kavanaugh of alleged sexual assault during high school. On Sept. 14, the New Yorker reported that a then-anonymous Ford had accused Kavanaugh of trapping her in a room at a party in the early 1980s, where he allegedly held her down and tried to remove her clothes, covering her mouth to muffle her screams. Kavanaugh has denied Ford's allegations, saying "I categorically and unequivocally deny this allegation. I did not do this back in high school or at any time." Representatives for Kavanaugh did not reply to Elite Daily's request for further comment.
At first, it didn't seem that Ford would testify before the Senate Judiciary Committee about her allegations for a number of reasons, one being that she asked for an FBI investigation into Kavanaugh be completed before she testified. However, on Saturday, Sept. 22, CBS reported that Ford agreed to testify regarding her allegations against Kavanaugh despite the backlash she has received from the public after coming forward, which reportedly include death threats which have forced her family to leave their home.
No one knows how Ford's allegations will be received by the Senate Judiciary Committee, but by agreeing to testify, she has inspired women like Ramirez to step forward and share their own recollections. Some people may think that the biggest obstacle against these women's credibility is the time frame, particularly that their allegations happened decades ago. On Sept. 21, President Donald Trump tweeted out a defense of Kavanaugh, saying that if Ford's alleged experience was "as bad" as she claimed, they would have been reported to law enforcement at the time. Elite Daily reached out to the White House for further comment at the time, but did not hear back. However, not reporting one's sexual assault is not uncommon among survivors. According to statistics provided by Rape, Abuse, & Incest National Network (RAINN), more than two-thirds of sexual assaults are never reported to authorities.
As Ramirez steps up and becomes the second face in this Kavanaugh ordeal, it remains to be seen how their allegations will be received.