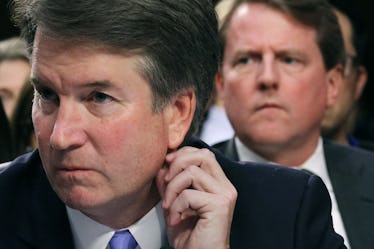 Brett Kavanaugh's Accuser, Christine Blasey Ford, Will Reportedly Testify Next Week
Chip Somodevilla/Getty Images News/Getty Images
Ever since the news broke of sexual assault allegations against Supreme Court nominee Brett Kavanaugh, people have been wondering if his accuser, Christine Blasey Ford, would testify with her allegations. As of news reports on Saturday, Sept. 22, Christine Blasey Ford will reportedly testify on her allegations against Brett Kavanaugh in front of the Senate Judiciary Committee. Per CBS News, a letter signed by Ford's lawyers, read, "Dr. Ford accepts the Committee's request to provide her first-hand knowledge of Brett Kavanaugh's sexual misconduct next week." In a public statement at the time of the initial allegations, Kavanaugh denied the allegations of sexually assaulting Ford in high school, saying "I categorically and unequivocally deny this allegation. I did not do this back in high school or at any time." Elite Daily also reached out for additional comment but did not hear back at the time of publication.
In the letter sent to the committee staff from Ford's lawyers, Lisa Banks, Debra Katz, and Michael Bromwich, on Saturday, Sept. 22, Ford's representation reportedly further discussed the situations surrounding Ford's purported testimony some time "next week." Writing in reference to the Senate Judiciary Committee's email proposal regarding Ford's testimony sent on Friday, Sept. 21, the letter reads,
Although many aspects of the proposal you provided via email, on September 21, 2018, at 2:33 pm, are fundamentally inconsistent with the Committee's promise of a fair, impartial investigation into her allegations, and we are disappointed with the leaks and the bullying that have tainted the process, we are hopeful that we can reach agreement on details.
Ford's lawyers also requested further negotiations in the letter, and they proposed a Saturday afternoon phone call to iron out the rest of the details.
On Sunday, Sept. 16, Ford revealed herself as the anonymous accuser who leveled allegations of sexual misconduct from their high school days at nominee Kavanaugh. The days between that revelation and Saturday's news that Ford will reportedly testify next week has been filled with speculation and plenty of opinions aired on Twitter.
On Friday, Sept. 21, President Donald Trump tweeted out his belief that Ford must have reported the alleged attack at the time when she alleges it happened in the 1980s. He wrote in his tweet,
I have no doubt that, if the attack on Dr. Ford was as bad as she says, charges would have been immediately filed with local Law Enforcement Authorities by either her or her loving parents. I ask that she bring those filings forward so that we can learn date, time, and place!
Elite Daily reached out to the White House for clarification on the tweet and the implication that if the alleged attack were serious it would have been reported at the time, as well as comment on the allegations themselves, but did not hear back at the time of publication.
Ford recalled her thoughts at the time in her Sept. 16 revelation to The Washington Post. She shared that she remembered thinking, "I'm not ever telling anyone this. This is nothing, it didn't happen, and he didn't rape me." Furthermore, being a 16-year-old at the time, she was worried about getting in trouble for being at a party where teenagers were drinking while underage. Ford's reaction to the alleged assault is not uncommon. According to statistics from the Rape, Abuse, & Incest National Network (RAINN), more than two-thirds of sexual assaults are never reported to authorities, and one of the most common reasons why includes that they "believed it was a personal matter."
Senate Judiciary chairman Chuck Grassley also shared a confusing tweet on Friday, Sept. 21. He wrote,
Five times now we hv granted extension for Dr Ford to decide if she wants to proceed w her desire stated one wk ago that she wants to tell senate her story Dr Ford if u changed ur mind say so so we can move on I want to hear ur testimony. Come to us or we to u.
Elite Daily reached out to Senator Grassley's office for comment on whether his statements of wanting to hear Ford's story mean that she will be given the time she requires to make the decision, but did not hear back at the time of publication.
Ultimately, it looks like the one-day extension was all Ford needed to maker her decision. During a time that's been filled with other people's thoughts and opinions on the matter, Ford remained mostly quiet and was even forced to flee her home amidst rampant death threats, per The Washington Post
Now that Ford has gone public with her allegation and her reported decision to testify, it's time to hear what she has to say in front of the Senate Judiciary Committee.