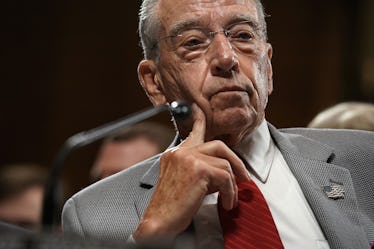 Chuck Grassley's Twitter Rant About Brett Kavanaugh's Accuser Is A Head-Scratcher
Alex Wong/Getty Images News/Getty Images
Senate Judiciary chairman Chuck Grassley has given the woman accusing Supreme Court nominee Brett Kavanaugh of sexual assault an extension to decide whether or not she wants to go through with testifying in court — but his social media rant late on Friday, Sept. 21 seemingly shows he's not happy about it. Chuck Grassley's tweets about Christine Blasey Ford and Brett Kavanaugh are pretty confusing. In a public statement at the time of the initial allegations, Kavanaugh denied the allegations of sexually assaulting Ford in high school, saying, "I categorically and unequivocally deny this allegation. I did not do this back in high school or at any time."
After submitting to mounting pressure to allow Christine Blasey Ford — who was forced to flee her home amidst rampant death threats, per The Washington Post — just one additional day to make her decision, the Iowa Republican took to Twitter to make his feelings known. In the series of tweets, Senator Grassley appears to directly apologize to Kavanaugh for the slight delay, but Grassley's terse language also seems to suggest that he might not care about hearing what Ford has to say at all. Elite Daily reached out to Senator Chuck Grassley's office for further comment on his tweets, but didn't hear back by the time of publication.
On Friday, Grassley agreed to push back his original arbitrary 10:00 p.m. deadline to 2:30 p.m. ET on Saturday, Sept. 22, giving Ford just less than an extra 24 hours to decide if she wanted to testify to lawmakers about her allegations that Brett Kavanaugh sexually assaulted her at a party when they were attending high school in the 1980s. Kavanaugh denies the allegations "from back in high school or at any time." According to CNN, Grassley's decision came after Ford's lawyers sent a letter to Grassley and called his stringent deadline and attitude "cavalier" with regards to a "sexual assault survivor," They requested an additional day for the professor to decide her next steps.
Grassley did end up granting the request, albeit reluctantly, and then took to Twitter with a late-night rant that has many scratching their heads.
"Five times now we hv granted extension for Dr Ford to decide if she wants to proceed w her desire stated one wk ago that she wants to tell senate her story Dr Ford if u changed ur mind say so so we can move on I want to hear ur testimony. Come to us or we to u," he began. Elite Daily reached out to Senator Grassley's office for comment on whether his statements of wanting to hear Ford's story mean that she will be given the time she requires to make the decision, but did not hear back at the time of publication.
The politician then directly addressed Brett Kavanaugh with a deferential, apologetic tone.
"Judge Kavanaugh I just granted another extension to Dr Ford to decide if she wants to proceed w the statement she made last week to testify to the senate She shld decide so we can move on I want to hear her. I hope u understand. It's not my normal approach to b indecisive," he continued, referencing his decision to push back Kavanaugh's confirmation by a few days.
Unsurprisingly, some Twitter users are using Grassley's language to construe that Grassley really isn't all that interested in hearing Ford's testimony.
Meanwhile, considering the personal nature of the Tweets directly addressing Kavanaugh, others are wondering if he actually meant to share these messages via a public forum like Twitter.
Grassley ended his trio of tweets with an exasperated message that somehow made the situation all about bipartisan politics.
Referencing Senate Minority Leader Chuck Schumer, he concluded, "With all the extensions we give Dr Ford to decide if she still wants to testify to the Senate I feel like I'm playing 2nd trombone in the judiciary orchestra and Schumer is the conductor."
Grassley isn't the only conservative stalwart that's been on a Twitter binge in light of Ford's allegations. Much to President Trump's advisors' dismay, President Trump took to the social media platform on Friday morning to herald Kavanaugh as a man with "an impeccable reputation" and to question why Ford didn't report her alleged attempted rape at the time. Elite Daily reached out to the White House for clarification on the tweet and the implication that if the alleged attack were serious it would have been reported at the time, as well as comment on the allegations themselves, but did not immediately hear back.
Considering that statistics say that more than two-thirds of sexual assaults are never reported, per the Rape, Abuse & Incest National Network (RAINN), President Trump's insensitive comments have since spurred a #WhyIDidntReport movement that trended on Twitter. Now, only time will tell if Ford does decide to bring her allegations against Kavanaugh to the courtroom.