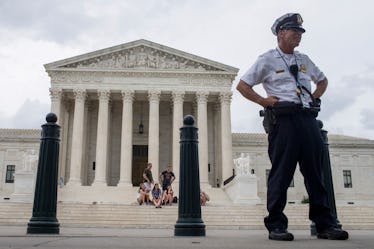 Here's Who Trump Chose To Replace Anthony Kennedy On The Supreme Court
Zach Gibson/Getty Images News/Getty Images
Since Wednesday, June 27, when Supreme Court Justice Anthony Kennedy announced his intention to retire from the bench at the end of July, anticipation had steadily been building. The question: Who would President Donald Trump select to become a new justice? The answer, Trump's Supreme court nomination to replace Anthony Kennedy, was revealed on Monday, July 9.
The president selected Judge Brett Kavanaugh. Kavanaugh currently serves as a judge on the United States Court of Appeals for the District of Columbia Circuit Judge.
Kavanaugh's appointment to the Supreme Court is now pending confirmation hearings before the Senate, where the nominee will have to receive a simple majority of 51 votes of approval to officially become a new justice.
Republicans currently hold 51 seats in the Senate and in the event of a 50-50 split in votes, Vice President Mike Pence would cast the tie-breaking vote.
On Monday, President Trump said of his nominee, "The rule of law is our nation's proud heritage, it is the cornerstone of our freedom, it is what guarantees equal justice, and the Senate now has the chance to protect this glorious heritage by sending Brett Kavanaugh to the United States Supreme Court."
The retirement of Anthony Kennedy sparked a political battle in which prominent Democrats promised to fight vigorously against Trump's presumed selection of a conservative judge, despite Republicans' seemingly insurmountable leverage.
An early die cast by Democrats? A call for Republicans to wait until after the 2018 midterm elections in November before conducting confirmation hearings for a Trump nominee. The logic behind the call was clear. In 2016, during a presidential campaign, Senate Republicans declined to grant a confirmation hearing to Judge Merrick Garland, whom then-President Barack Obama had nominated to replace late Supreme Court Justice Antonin Scalia.
"Our Republican colleagues in the Senate should follow the rule they set in 2016 — not to consider a Supreme Court justice in an election year," Senate Minority Leader Chuck Schumer said on the Senate floor shortly after Kennedy announced his retirement. "[Senate Majority Leader] McConnell would tell anyone who listened that the Senate had the right to advise and consent. And that was every bit as important as the president's right to nominate."
Schumer had even gone as far to try and convinced President Trump to nominate Garland, according to The Washington Post.
Schumer's counterpart, Sen. McConnell, meanwhile promised business as usual. "We will vote to confirm Justice Kennedy's successor this fall," McConnell said on the Senate floor the day Kennedy announced retirement.
Now, with Trump having officially selected a nominee, the president's opposing party is likely to use the confirmation hearings as a tool to highlight its grievances and concerns about the future of the Supreme Court.
"My sense is that there's not much actual power in the minority to stop this, but if he puts up a radical, anti-choice, anti-collective bargaining, anti-worker nominee, we're going to have to use whatever mechanism we have to up the volume level." Connecticut Sen. Chris Murphy, touted as a potential presidential candidate in 2020, told Politico after Kennedy's announcement.
Meanwhile, Republicans will relish in the confirmation imminent confirmation of Kavanaugh, the second Supreme Court pick of President Trump's tenure in office.
Before the 2016 presidential election, with former Secretary of State Hillary Clinton favored to win the presidency, the GOP faced a scenario in which both Scalia and Kennedy, both viewed as conservative judges, would likely have been replaced by nominees selected by a Democrat.
Instead, a new look Supreme Court with 2017 appointee Neil Gorsuch and Trump's most recent nominee, Kavanaugh, could ensure a conservative majority on the nation's highest court for years to come.