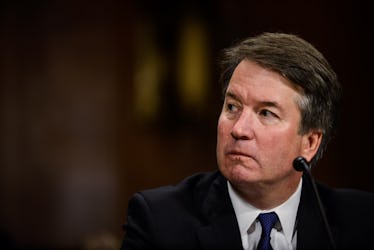 Brett Kavanaugh's Final Confirmation Vote Might've Just Hit A Snag
Pool/Getty Images News/Getty Images
The possibility that Brett Kavanaugh will be confirmed to the Supreme Court is looking more and more likely. On Friday, Sept. 28, the Senate Judiciary Committee voted to advance Kavanaugh's nomination to the full Senate, despite a series of sexual assault allegations made against him throughout his confirmation process. Kavanaugh has adamantly denied the allegations. Elite Daily reached out to his representatives for further comment, but did not receive a reply. Even so, with Kavanaugh inching closer to being confirmed to the Supreme Court, you might be wondering the important thing: when will the Senate vote on Brett Kavanaugh's nomination? What with all the drama, the answer is kind of complicated.
Before the committee vote, it was expected that the Senate could vote on Kavanaugh as early as Monday, Oct. 1 or Tuesday, Oct. 2, according to USA Today. But a last-minute change of heart could prolong the process. As the Senate Judiciary Committee prepared to vote, Arizona Sen. Jeff Flake spoke up to say that although he would vote to move the nomination out of committee, he would not vote in favor of confirmation unless the FBI investigates the allegations leveled against Kavanaugh. Flake called for a delay of up to one week in order to give the FBI time to conduct an investigation. "I think it would be proper to delay the floor vote for up to but not more than one week in order to let the FBI to do an investigation limited in time and scope to the current allegations that are there," Flake explained. However, both Flake and Senate Judiciary Committee Chairman Sen. Chuck Grassley of Iowa noted that the choice to delay the confirmation is ultimately up to Senate Majority Leader Mitch McConnell.
Later in the day on Sept. 28, it looked like the calls to delay had been successful. Shortly before 4 p.m. ET, Sen. John Cornyn announced that he and several other Republican senators had met with McConnell, and the leaders had agreed on a new investigation into the judge. "There's going to be a supplemental FBI background investigation," Cornyn said, according to NBC News.
On Friday afternoon, the Republican-led Senate Judiciary Committee voted 11-10 along party lines to send Kavanaugh's Supreme Court nomination to the full Senate for his final confirmation. The vote came less than a day after both Ford and California professor Christine Blasey Ford appeared before the committee to share their accounts of an alleged assault she claims happened back in the 1980s while they were in high school, which Kavanaugh has denied.
According to Ford, an intoxicated Kavanaugh allegedly locked her in a room at a gathering of friends, pinned her on a bed and sexually assaulted her. During her testimony, Ford told the committee that she's "100 percent" certain that Kavanaugh attacked her. Kavanaugh has repeatedly denied her accusations. "This is a completely false allegation. I have never done anything like what the accuser describes — to her or anyone," Kavanaugh said in a statement, per CNBC. His representatives did not respond to Elite Daily's request for further comment. Kavanaugh also maintained his innocence during his testimony on Sept. 27, implying that he was the victim of a smear campaign by Democrats. "This whole two-week effort has been a calculated and orchestrated political hit fueled with apparent pent-up anger about President Trump and the 2016 election," he declared.
Although there were widespread concerns that the allegations against him could threaten his nomination, with the latest update, it looks like Kavanaugh has a real chance at winning over a seat in the Supreme Court. We'll see what happens once this case makes it to the Senate — whenever that is.