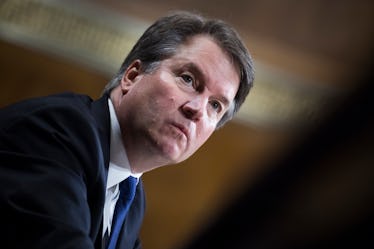 The Senate Judiciary Committee Has Approved Brett Kavanaugh, So Here's The Next Step
Pool/Getty Images News/Getty Images
The moment you've been waiting for is finally here: the Senate Judiciary Committee just voted on Supreme Court nominee Brett Kavanaugh. At one point, the judge's fate seemed rocky, as three women have come forward accusing Kavanaugh of sexually inappropriate behavior in the wake of his confirmation process, which turned it into a complete media frenzy. Kavanaugh has denied all allegations. Elite Daily reached out to representatives of his for further comment, but did not receive a reply. But on Friday, Sept. 28, the Senate Judiciary Committee voted to refer Kavanaugh's confirmation to the full Senate, putting him one step closer to claiming a seat on the nation's highest court. So what happens now, after Kavanaugh's Senate Judiciary Committee vote? Here's what you should expect going forward.
At just about 2 p.m. ET on Friday afternoon, the committee officially voted 11-10, along party lines, to refer Kavanaugh's nomination to the Senate. Now that the committee has voted to refer Kavanaugh's nomination, his confirmation is heading to the full Senate. According to Vox, there's a possibility that the judge could be voted on by Saturday, Sept. 29, but that would require "unanimous consent" by all 100 senators — which is highly unlikely considering many Democrats oppose Kavanaugh's nomination. However, his appointment could be approved as early as Tuesday, Oct. 2 once the full Senate gets a chance to vote, per USA Today.
But it's not guaranteed to be smooth sailing. At the last minute, Arizona Sen. Jeff Flake, a member of the majority Republicans on the committee and a crucial swing vote, agreed to vote Kavanaugh's nomination out of committee but implied he would not vote to confirm Kavanaugh in the final vote on the Senate floor without an FBI investigation into the allegations against the judge. He called for a delay of a week on a final vote to allow the FBI time to investigate. However, both Flake and Committee Chairman Sen. Chuck Grassley of Iowa noted that the final decision for a delay was not up to either of them, but rather, Senate Majority Leader Mitch McConnell.
The vote by the Senate Judiciary Committee was scheduled for 1:30 p.m. ET on Friday, less than a day after both Kavanaugh and California professor Christine Blasey Ford testified on Capitol Hill about an alleged sexual assault Ford claims happened while they were in high school. According to Ford, Kavanaugh sexually assaulted her and attempted to rape her in a locked room at a small gathering of friends in the 1980s. He has repeatedly denied her claims, forcefully declaring his innocence in a hearing before the Senate Judiciary Committee on Thursday, Sept. 27. "This confirmation process has become a national disgrace," Kavanaugh told the committee, per Vox. "The Constitution gives the Senate an important role in the confirmation process, but you have replaced advice and consent with search and destroy."
Still, Ford's searing testimony left a cloud of uncertainty on whether or not Kavanaugh would make it through the confirmation process. According to CNN, Senate Republicans initially didn't have enough votes to confirm Kavanaugh, with Flake appearing to be the swing vote on a panel with 11 GOP members and 10 Democrats. In the case that there weren't enough votes, GOP leaders were reportedly banking on Vice President Mike Pence to sway the vote in their favor. But it looks like they didn't have to go that route, because Flake later said he would vote to confirm Kavanaugh — at least, in the committee. Following Flake's statement that he would vote to confirm, he was publicly confronted by protesters, who told him in a heartwrenching moment caught on video that his support of Kavanaugh told women they "didn't matter." Flake later cited conversations with constituents when he called for a delay on the vote to investigate.
Although Kavanaugh is inching further and further towards claiming a seat on the Supreme Court, anything can happen during next week's vote. Let's see how this unfolds.