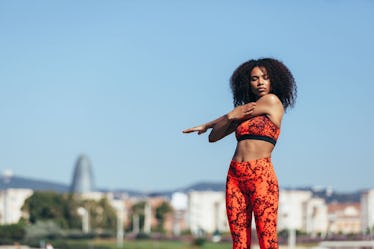 Try These 5 Workouts When It's SO Hot Outside That Your Sweat Is Literally Sweating
Working out in the thick of summer can be uncomfortable as hell, mainly because it feels like the devil himself is seductively licking you with his tongue as the humidity encapsulates your entire being and sweat pours down every available crevice of your body. But along with feeling uncomfy AF during summer workouts, it can actually be pretty dangerous to exercise in the heat if you don't take the necessary precautions. There are, however, ways to protect your body, as well as a few safe workouts to do in the heat, so you can avoid any potential risks that come with sweating it out during the dog days of summer.
Dehydration, heat stroke, heat exhaustion, and electrolyte imbalances are just a few of the scary things that can happen if you don't take the right steps before working out in the heat. According to the American Academy of Family Physicians, a balance of water and electrolytes is crucial to your body's equilibrium, especially when it's really hot outside and you're sweating your butt off. It's recommended that you stay hydrated with lots of H2O by making sure you're sipping every 15 minutes, according to ACTIVE.com, even if you don't feel thirsty in the moment. Be sure to keep hydrating after your workout, too, either with more water, or with an electrolyte-boosting drink like Gatorade, so your body can replenish the fluids it lost during the actual exercise.
Additionally, Cleveland Clinic recommends wearing as little restrictive clothing as possible on those stuffier days, exercising during the cooler parts of the day (aka morning or evening), and remembering to slow down — in other words, a challenging HIIT circuit packed with burpee exercises maybe isn't the best idea when it's over 100 degrees Fahrenheit outside, you feel me?
If you decide to take your workout outside on one of those hotter days this summer, be sure to keep these tips in mind to stay safe under the sun (and don't forget that sunscreen!). And if you're wondering how to slow down and keep cool, here are five exercises to help you stay safe in the heat.